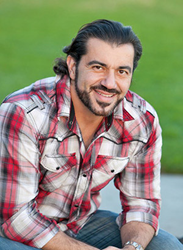 If you aren't online they'll never find you. So explore all of your online avenues.
Chino Hills, Calif. (PRWEB) January 29, 2015
As the economy rises, along with America's awareness of health and obesity rates, demand for fitness solutions and variety is ever increasing. Response to this demand will inevitably result in an explosion of new fitness businesses emerging around the country. Yet, as 2008 brutally reminded American businesspeople, big booms often result in even bigger crashes.
While a dip in the fitness industry might not have a massive impact on the American economy as a whole, it will leave hundreds of would-be entrepreneurs stuck in financial crises.
That is why Bedros Keuilian, fitness business expert, has released his new article: to help keep these new fitness businesses afloat. Keuilian, however, is no ordinary fitness expert. He owns and operates one of the fastest growing fitness franchises in the country, Fit Body Boot Camp, and he personally coaches hundreds of entrepreneurs and fitness professionals, guiding them through the business creation process.
He begins his business advice where all fitness businesses begin: finding the right location.
"[Choosing a location] is an incredibly difficult process and crucial to ensuring your success… The biggest misconception I am constantly training out of people's understandings is the idea that your boot camp or studio needs to have great street visibility.
"Your location will be discovered by those who are actively looking. They will find you online, on Yelp, on Google Maps, all the places prospects look for services like yours. So don't spend money you don't need to spend on getting a hugely visible location."
The article also discusses build-out and explains where assets are most effectively spent.
"Always start small. There's nothing wrong with bursting at the seams. You want your studio or boot camp to have the appearance of being the hip, happening, busy place packed with tons of clients. So keep it around 2,000 to 1,500 square feet in the beginning.
"It is also vitally important that you don't spend all of your time, money, effort and energy making the place look expensive. Do whatever you can afford, but remember, these aren't the types of things that get clients in your door— that's marketing."
Lastly, he provides valuable online marketing tips specially chosen for the new fitness entrepreneur.
"If you aren't online they'll never find you. So explore all of your online avenues. Find out about search engine ads, social network ads, Groupon and other Deal-of-the-Day sites that will allow you to get your name out there for relatively cheap.
"You absolutely need a website. There's no getting around it, you need to have an established and constantly accessible online presence that is more than a periodical ad or even a Facebook page.
"You're also going to need to start building an email list of clients and prospective clients. Without an email list you will be missing out on droves of clients and lots of money-making opportunities."
With these few, simple tips, fitness entrepreneurs can begin the process of business creation with confidence in their ability to outlive any future bust. For more assistance, Keuilian's websites are full of valuable blog and video archives that have helped thousands of fitness professionals become successful business owners.
About Bedros Keuilian:
Bedros Keuilian is a fitness marketing and business consultant who has been named the "hidden genius" behind several of the biggest names in the fitness industry. In addition, he is also the founder of the popular fitness marketing blog, RenegadeFitnessMarketing.com, and founder and CEO of the indoor fitness boot camp franchise, Fit Body Boot Camp.
To learn more about Bedros Keuilian and his fitness boot camp franchise, please visit: http://renegadefitnessmarketing.com/ and http://www.myfitbodybootcamp.com/