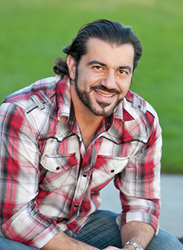 67% of American's with gym memberships never actually use them.
Chino Hills, CA (PRWEB) January 26, 2015
The rising awareness of American obesity rates, combined with the annual season of personal resolutions and fitness self-consciousness, has large numbers of consumers exploring their fitness and exercise options en masse. As numerous competing offers are considered by American buyers still cautiously spending within a slowly recovering economy, many shoppers are surprised by the seemingly drastic cost difference between gym memberships and Fit Body Boot Camp memberships. Bedros Keuilian, CEO of the fastest growing indoor fitness boot camp franchise in the country, has released a detailed article ultimately claiming that his reliable delivery of results is the main reason for any significant price disparity.
"We're selling results. Our clients are purchasing outcomes," said Keuilian as he began his article, "But the only way we can produce incredible outcomes and results is by offering specialized services and these services incur costs that don't exist at big box gyms."
He explained this principle in more detail:
"67% of Americans with gym memberships never actually use the facilities for which they pay each and every month. That means, at any given gym, the staff, equipment, maintenance and facilities need only be designed and maintained to accommodate 33% of the total number of paying customers.
"In sharp contrast to that model, it is very rare for Fit Body Boot Camp members to continue paying without ever attending their workout sessions. In other words, everyone paying for boot camp is using it. And accommodating all that use incurs costs, costs which are not alleviated by huge numbers of paying clients who never come in to use our services."
After explaining the fiscal situation that necessitates his gyms' higher price point, he also showed that his business model, designed to deliver the absolute best results, invariably costs more:
"The standard layout for most large gyms is row after row of cardio machines, weight racks, and class schedules. It's carefully designed to be a 'do it yourself model' because that is the most inexpensive model available to big gyms.
"We take exactly the opposite approach. Our Afterburn workouts, while extremely effective, would be impossible without the guidance of a certified trainer leading the group workout session. Our memberships come standard with individualized nutritional consultations, monthly weigh-ins, measurements, and fitness evaluations… But developing effective workouts that are updated daily and employing certified fitness professional that help clients avoid injury and maximize results all costs additional assets— costs that don't exist at the do-it-yourself gyms."
Keuilian's article also evidenced a complete emotional support structure that is simply nonexistent at a regular gym:
"Intense workouts, total body transformations, accomplishing goals, making changes to one's lifestyle, these are all exceptionally emotional events that take place each day within Fit Body Boot Camp locations worldwide. Our clients are not just burning some extra calories, they are working with us to become entirely new people. This makes it essential to offer the emotional support clients need as they navigate these challenging periods of transition and transformation."
Finally, Keuilian showed that the results consistently provided by his facilities' justify the high price:
"All of this intense, specialized attention, with the fitness and nutritional instruction, guarantees incredible results. The intense workouts and specialized equipment deliver even faster results. The emotional support makes sure our clients work hard and get results. Our certified trainers help generate client results. The group sessions foster interpersonal relationships that encourage groups of individuals to work together to produce better results."
About Bedros Keuilian:
Bedros Keuilian is a fitness marketing and business consultant who has been named the "hidden genius" behind several of the biggest names in the fitness industry. In addition, he is also the founder of the popular fitness marketing blog, RenegadeFitnessMarketing.com, and founder and CEO of the indoor fitness boot camp franchise, Fit Body Boot Camp.
To learn more about Bedros Keuilian and his fitness boot camp franchise, please visit: http://renegadefitnessmarketing.com/ and http://www.myfitbodybootcamp.com/