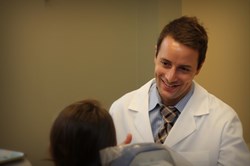 We'll change the way you feel about going to the dentist.
Fitchburg, MA (PRWEB) November 26, 2013
A simple visit to the dentist can be anything but simple. Diagnosing and treating even common conditions can mean sending patients to two or three different dentists and imaging centers. What if it were instead possible to have all dental needs met at a single location? Longtime Fitchburg dentist Watkin Dental Associates now provides that solution.
Watkin Dental Associates designed its newly re-opened practice to provide patients with all the dental care they could need, from professional cleaning and teeth whitening to dental implants and other advanced surgical procedures. The wide range of specialization within the team of eight doctors, together with the investment in 3D imaging equipment, microscopes and other advanced dental technologies, mean that patients will receive the very best care possible, and all under one roof.
"We strive to provide an anxiety-free dental experience that will truly change the way you feel about going to the dentist," said Dr. Arnold Watkin, owner of Watkin Dental Associates. "We deliver on that promise through our close-knit team of very talented and caring General Dentists and Specialists, supported by the most modern dental technology available."
"If I need help," continued Dr. Watkin, "I am able to consult with my colleagues to obtain the appropriate diagnosis and treatment planning for my patient. Using the advanced CT scanners and microscopes right here in the office ensures a more definitive diagnosis to complete the treatment."
Watkin Dental Associates welcomes both children and adults and accepts many forms of insurance. Interest-free financing is available for qualified patients. No matter the patient needs, this friendly Fitchburg dentist will provide complete, high-quality care.
See the difference it makes when all the essential dental professionals and advanced dental technologies are in one convenient location.
Visit Watkin Dental Associates today for a New Patient Consultation and complementary gift.
About Watkin Dental Associates
Watkin Dental Associates has been serving patients in Fitchburg, MA, since 2006. Services range from professional cleanings to advanced surgical procedures. The most popular patient services are teeth whitening and implants.