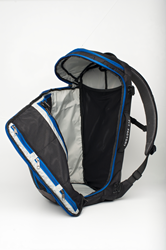 It's definitely the best bag I've ever had. I'm a pro-team athlete, and it's just been awesome to have a bag that actually fits everything so comfortably and effectively.
SAN LUIS OBISPO, CA (PRWEB) September 16, 2014
Paul Teehan, two-time CrossFit Games Athlete and athlete on the Boston Iron NPGL team, has named Fit Factory's MobilityPack as the best gear bag on the market. The innovative MobilityPack leads Fit Factory's line, and focuses on enabling amatuer and advanced athletes to carry all the gear they need, including injury-preventing necessities, conveniently and simply.
"It's definitely the best bag I've ever had," Teehan said. "I'm a pro-team athlete, and it's just been awesome to have a bag that actually fits everything so comfortably and effectively. I spend a lot of time training in my busy life, and this bag really makes the difference for me to carry all my gear."
The MobilityPack has a 32-liter capacity and is constructed with a firm shell that allows athletes to fit their gear comfortably and efficiently. Not only is it water resistant, but the interior lining of the main pack and pod pockets are also treated with an antimicrobial. This acts to prevent odors so the pack doesn't smell after workout clothes sit in the MobilityPack while at work or during a long drive home. A front pod allows for easy exterior shoe storage in order to provide more interior space and keep clothes and gear inside clean.
"I really love the design of the bag, and the different compartments are great," Teehan said. "My shoes and my knee pads go really well in the outer compartment, so that everything stays organized and doesn't get dirty or smelly."
Fit Factory founder Nate Chambers launched his line with convenience and performance for athletes in mind. The MobilityPack has been ergonomically designed for extreme comfort. The weight of a fully loaded pack is distributed evenly across the core so that back does not prematurely fatigue. Adjustable shoulder and hip straps have been designed for equal comfort and stability on people of all sizes.
"I just like the backpack style," Teehan said. "I have so much stuff to carry around all the time when I am training and competing, and this pack goes over my shoulder comfortably. It makes all I carry feel much lighter and comfortable, and I am thankful for that after a long workout."
The MobilityPack and other Fit Factory accessories are open for standard orders. The standard MobilityPack retails for $145, but Fit Factory is also offering a "MobilityPack: The Essentials" package that includes the pack, a foam roller, a sport bottle, two lacrosse balls, and a shirt for just $199. Other accessories include the Fit Factory Trigger Point Ball, $145; Foam Roll, $17.95; Women's and Men's Tech Tees, $29.95; Strength Wraps, $30.95; Fit Factory Original Clean Bottles, $12.95.
For more information about Fit Factory or to order a MobilityPack today, please visit the website at http://www.fitfactorygear.com/. Also like Fit Factory on Facebook and follow the company on Twitter for exclusive promotions and updates.
ABOUT FIT FACTORY
Founded in 2014 by Nate Chambers and Dan Herron, Fit Factory is an athletic gear company founded with a focus on bringing enhanced mobility and prehabilitation capabilities to both professional and amatuer athletes. This simple, powerful idea is the foundation of Fit Factory and the flagship product, the MobilityPack. Fit Factory's mission is to bring active recovery to athletes everywhere, enabling them to pursue their passions as long as they desire.