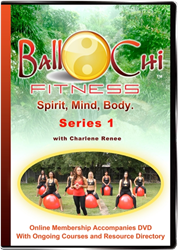 ...I have released over 26 inches over my body. More importantly no back pain and it's been almost six months...
Sacramento, CA (PRWEB) February 08, 2014
Never before has a fitness system combined all aspects in self healing by introducing ancient eastern medicine and traditions to heal the spirit and mind while combining these efforts with a revolutionary new workout. The Ball-Chi workout is focused around specific movements to increase strength and release inches from the body.
Ball-Chi Fit International is bringing a revolutionary new spin to the fitness industry by introducing our East meets West philosophies and practices into fitness. Ball-Chi Fitness Series 1 is a spirit, mind, body fitness system designed for all women that when practiced in unison will transform them immediately by releasing inches and weight, pain, stress and even emotional blocks from the body in as early as 30 days.
With the Ball-Chi System, students have experienced amazing results. Let's hear from Carla Preyer who is a 52-year young woman that has gone through this revolutionary system:
"From early 2006, I have worn an arm and back brace just to make it through my work day. Also, I was seeing a chiropractor three times a week. Since Ball-Chi, within two and half months, I have released over 26 inches over my body. More importantly no back pain and it's been almost six months and I have not had the need to go to the chiropractor. Also in the time I have been doing Ball-Chi the affirmations has made an awesome impact on my life and the way I speak about myself and my body. As a result of this, I have been the most consistent ever with my workouts." - Carla Preyer
Ball-Chi's Spirit Fitness guides you through a creative visualization meditation that increases self-love and self- acceptance while at the same time teaches techniques of relaxation and how to release high levels of stress from the body.
Ball-Chi's Mind Fitness encourages speaking positive high vibrational words towards the body at all times. Ball-Chi no longer allows negative words such as "losing" inches and weight to be part of our vocabulary. Ball-Chi implements "releasing" as a positive word to letting go of everything unwanted such as excess weight and inches, negative feelings towards one's self and/or others. By practicing this terminology technique, Ball-Chi feels that one can attract feelings of self-love, self-approval and the ability to release inches and weight from the body at a much quicker pace. Ball-Chi students will notice change within your body in the first 30 days by what has been shown by prior students that have gone through the program.
Ball-Chi's Body Fitness is a full body workout created with a stability ball for resistance. The Ball-Chi unique form and breathing technique allows the transformation to result much faster as it taps into the second layer of muscle also improving posture and strengthening the core. Ball-Chi has proven to release aches and pains from the body that have been plaguing women for years. Women from ages 19 to 76 with various body types, fitness backgrounds and ethnicities have all released and received results within their first 30 days by committing to only three times per week. This does not require you to do cardio or diet changes to produce results. Ball-Chi Fitness Series 1 is attainable for anyone to do and was created as a vehicle to be able to train anywhere in the world as long as they can take the ball and DVD with them.
Ball-Chi Fit International is very proud to release the first DVD of the Ball Chi Fitness system focused around women. In the Ball-Chi Fitness Series 1 DVD available now for purchase online, Ball-Chi Fit International has started their mission to awaken the minds of our followers to improve upon their spirit, mind and body. Ball-Chi Fitness has plans to release a Men's Fitness program in the near future along with a Children's program as well.
Experience the Universe of Ball-Chi Today!