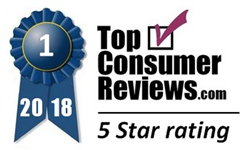 Nike truly goes that extra mile for their customers, and we're extremely pleased to give them our highest ranking among retailers of Fitness Clothing in 2018."
OVERLAND PARK, Kan. (PRWEB) August 08, 2018
TopConsumerReviews.com recently awarded their highest five-star rating to Nike, a market leader in Fitness Clothing and other apparel.
What do yoga enthusiasts, marathon runners, and Zumba fanatics have in common? They all need the right Fitness Clothing to match their sport. From shoes to apparel, most activities have a certain type of gear that can make all the difference between a comfortable workout and chafing, blisters, or even injuries. While it's not difficult to find some Fitness Clothing at local brick-and-mortar stores, it can be a challenge to find exactly the right sizes, styles, and brands without going from one retailer to the next. Fortunately, the world's best selection of Fitness Clothing is available online, and with customer-friendly policies like free returns and complimentary shipping offered by many stores, there's almost no need to do anything but browse, click to order, and enjoy.
"There's no more recognizable name in the Fitness Clothing world than Nike," explained Brian Dolezal, of TopConsumerReviews.com, LLC. "With a brand that also includes top names like Hurley and Converse, Nike can deliver a jaw-dropping variety of gear right to your doorstep - even their customizable shoes. No other retailer offers such an amazing range of colors, sizes, and styles, especially for those who may have a hard time finding Fitness Clothing that fits when shopping elsewhere. And, their perks are unparalleled: free shipping on every order once you create a no-cost user account, and no-questions-asked returns within 30 days, even on things you have worn. Nike truly goes that extra mile for their customers, and we're extremely pleased to give them our highest ranking among retailers of Fitness Clothing in 2018."
To find out more about Nike and other online retailers of Fitness Clothing, including reviews and comparison rankings, please visit the Fitness Clothing category of TopConsumerReviews.com at https://www.topconsumerreviews.com/fitness-clothing/.
About Nike
NIKE, Inc., based near Beaverton, Oregon, is the world's leading designer, marketer and distributor of authentic athletic footwear, apparel, equipment and accessories for a wide variety of sports and fitness activities. Wholly-owned NIKE, Inc. subsidiary brands include Converse, which designs, markets and distributes athletic lifestyle footwear, apparel and accessories; and Hurley, which designs, markets and distributes surf and youth lifestyle footwear, apparel and accessories.
About TopConsumerReviews.com
TopConsumerReviews.com, LLC is a leading provider of reviews and rankings for thousands of consumer products and services. From Fitness Clothing to Home Gyms and Women's Shoes, TopConsumerReviews.com delivers in-depth product evaluations in order to make purchasing decisions easier.