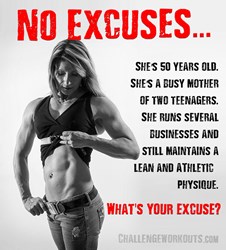 I just wanted to share my story to motivate more people to take their health and fitness seriously. If I can do it, so can others.
(PRWEB) December 09, 2013
Even though female fitness and fat loss expert, Shawna Kaminski, has been named the "Toughest Calgarian Alive" by winning the coveted Canadian fitness challenge twice, she still has to overcome the challenge of naysayers and cynics who won't take her health and fitness advice seriously.
Kaminski recently received some flack after sending an email to her list of subscribers on the subject of how to stay fit while traveling. "8 Tips from NYC" was supposed to help her subscribers stay on track with their fitness goals when traveling with helpful tips, but instead of receiving a quick "thank you", Kaminski was sent a hateful message criticizing her for being "perfect".
The message, sent by an ex-subscriber named Barb, reads, "well miss shawna arent u the perfect one, omg!! never eating carbs ever… oh what self control you have and oh exercising every day. Oh jeeze you make me SICK!!"
Kaminski has since posted the message to her blog, ChallengeWorkouts.com, to try and figure out what, in fact, may have caused her ex-subscriber to become offended. But after receiving over 100 comments of support, she decided that she was on track and to use the hate mail as an inspiration to help more people accomplish their health and fitness goals.
She says, "Of course, receiving hate mail hurts my feelings. 'Barb' probably has some of her own issues unrelated to me, but it still hurts my feelings when I get this sort of thing. My purpose is to provide helpful tips and advice on how to get and stay fit for life. In fact, I was asked by a different reader to post these tips on my Facebook page and on my blog too. Sometimes I wonder if the advice that I share is a little 'too much information', but if anyone can benefit from even one tip, then I'm happy."
The Canadian fitness and fat loss expert has also gained a lot of attention after releasing a motivating "What's Your Excuse?" fitness photo where she admits that she's 50, a busy mother of two teenagers, and runs several businesses all while maintaining a lean and athletic physique.
Kaminski says that she created the fitness photo as a way to motivate people to get up and start exercising for better health. She explains, "People have so many excuses for why they don't exercise. This is turning into a health epidemic. In fact, people are more unhealthy and unfit than ever before. I just wanted to share my story to motivate more people to take their health and fitness seriously. If I can do it, so can others."
About Shawna Kaminski
Shawna is a long time fitness enthusiast having competed nationally in three sports. She is a 50-year-old mother of two, who continues to stay lean, healthy and fit while maintaining a healthy and balanced life. You won't find her training for hours a day or starving herself. She has a busy career helping others transform their bodies and achieve better health. Kaminski also owns and operates Calgary NW Fit Body Boot Camp, and is known for her popular fitness blog, ChallengeWorkouts.com, which houses many of her at-home workouts - Challenge Fat Loss, Pull Up Challenge, Challenge Jump Rope, Challenge Burpee and Challenge Complexes, all designed to help women (and men) safely get in great shape fast.