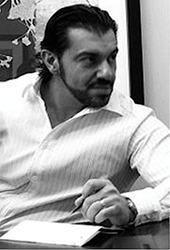 The worst thing that a fitness boot camp or gym owner can do is just hand out a bunch of business cards and hope for the best.
Chino Hills, CA (PRWEB) August 19, 2014
Bedros Keuilian is no stranger to the battles faced by the new gym or fitness boot camp owner. He may be the founder of the fastest growing fitness franchise in the nation, but he once battled to feed his family on a personal trainer's income. Now he mentors other fitness business owners, and as shown in a new video released this week on YouTube, he's been recruited by Spike TV to help struggling fitness entrepreneurs on the network's new reality series, Gym Rescue.
Keuilian says that the strategies and techniques he teaches the business owners on the show are the same ones he teaches to his franchisees, his coaching clients and on his websites. "Most of the gym and fitness boot camp owners I work with have very little marketing or sales experience and that's where they usually run into trouble," he explains. "They have the training and experience to deliver really great results to their clients, but they don't know how to get enough clients to make their business a success."
On the show, as in his fitness business seminars, blog posts and YouTube videos, Keuilian stresses the importance of encouraging and making the most of referrals, using social media to the best advantage and getting out into the community to build a brand and reputation.
"The worst thing that a fitness boot camp or gym owner can do is just hand out a bunch of business cards and hope for the best," he explains. "It's extremely important to create a marketing plan and to have that plan include several different marketing tools and strategies. You need to do everything you can to reach your target demographic where they are and draw them to your business."
While business owners facing bankruptcy or closure might balk at the idea of putting a lot of money into marketing, Keuilian says that most of his favorite and most effective marketing strategies cost nothing or very little.
"I teach my franchisees and coaching clients how to build an email list and how to bring in new, long-term clients with email marketing, which is basically free," he explains. "I also teach them how to use Facebook to bring in a huge amount of business without buying a single ad. Expensive marketing isn't necessarily effective marketing and free marketing is some of the best marketing you can do."
But Keuilian stresses that marketing is only half the task; owners must learn how and what to sell potential clients once the marketing gets them in the door.
"All the marketing in the world won't keep you afloat if you're not selling memberships or training contracts to your prospects," he explains. "A good rule of thumb is that you should be able to close 60% of the people you try to sell. To do that you need to know what their goals are and focus on explaining exactly how you can help them reach those goals. Too many inexperienced owners try to sell them based on session schedules, sound systems, smoothie bars and everything but the results they can get their clients. That's a huge mistake, because that other stuff is nice but what clients want from a gym or fitness boot camp are results."
Spike TV's Gym Rescue premiered August 10th with the final episode this Sunday, August 24th.
About Keuilian Inc.
Keuilian Inc. (est. 2007) was founded by fitness marketing and business consultant Bedros Keuilian, who has been named the "hidden genius" behind several of the biggest names in the fitness industry. In addition, he is also the founder of the popular fitness marketing blog, PTPower.com, and founder and CEO of the indoor fitness boot camp franchise, Fit Body Boot Camp.
To find out more about Bedros Keuilian and his fitness boot camp franchise, please visit http://www.ptpower.com/ and http://www.myfitbodybootcamp.com/.