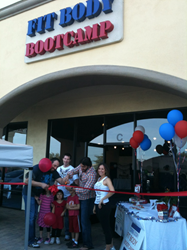 I learned a lot about other companies and that helped shape what I wanted our company to be and what I didn't want it to be.
Chino Hills, CA (PRWEB) June 26, 2014
Bedros Keuilian is the founder of the wildly successful Fit Body Boot Camp franchise and is also known throughout the industry as a fitness marketing expert. He says that he believes this is the best time to start a fitness business franchise, but that people need to shop very carefully before deciding on a brand.
"People need to do their homework before writing a check. They've probably worked really hard to earn that money and it's awful to lose everything in a business that doesn't work or that doesn't suit you. I know, because my first two businesses failed," admits Keuilian.
Keuilian says that he may be biased toward Fit Body Boot Camp, but he learned an awful lot about the fitness business franchise market when he was building the brand. "I learned a lot about other companies and that helped shape what I wanted our company to be and what I didn't want it to be," he says. "I tell people that there are five really important questions to ask yourself or the companies before you buy in."
Keuilian says the first question is how much the buy-in will cost and what it will cover. "Some buy-in fees are enormous but they don't cover everything you need to get the business up and running," he explains. "How much money will you have left over to pay for everything that's not included?"
He explains that the second question that needs to be answered is what equipment the new owner will have to buy. "A lot of companies require that you have certain pieces of equipment and some of them even require you to buy that equipment from them, after they've marked it up. We don't do that and actually we help franchisees find cheap used or rental equipment if they need it. Good thing is, our boot camps don't need much. Others require a pretty extensive set-up so find out how much you're going to have to spend and where."
The third question is what the franchise royalty fees will be. "We charge a flat fee per month, so that we're not penalizing boot camp owners for working hard and growing their businesses. But the industry standard is a percentage of the monthly gross and it's usually about 6-8%."
Keuilian says the fourth question has a lot to do with the franchise royalty fees. New franchisees need to find out for certain what kind of support, coaching and help is being offered for those franchise royalties.
"In the beginning, new fitness business franchise owners need help with finding a location and setting up business systems," he says. "But as the business grows, coaching is needed elsewhere. Later on, you might need help with hiring staff or building a marketing strategy. You need to know if you're on your own or the franchise is going to walk you through all of these situations."
Last, Keuilian says that prospective franchise owners need to know how long the term of the franchise is. "A lot of companies require you to stay with them for ten years," he explains. "But if they haven't been around very long and don't have an established record of growth and stability, people need to be cautious."
Still, Keuilian maintains that the current focus on living a healthier lifestyle, losing weight and getting fit make this one of the best times in recent years to start a fitness business franchise.
About Keuilian, Inc.
Keuilian Inc. (est. 2007) was founded by fitness marketing and business consultant Bedros Keuilian, who has been named the "hidden genius" behind several of the biggest names in the fitness industry. In addition, he is also the founder of the popular fitness marketing blog, PTPower.com, and founder and CEO of the indoor fitness boot camp franchise, Fit Body Boot Camp.
To find out more about Bedros Keuilian and his fitness boot camp franchise, please visit http://www.ptpower.com/ and http://www.myfitbodybootcamp.com/.