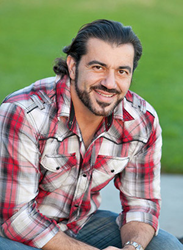 These are things that every gym or studio owner should implement right away if they're looking to make more money.
Chino Hills, CA (PRWEB) February 25, 2014
The popular fitness business marketing blog known as PTPower.com releases its top six ways for personal trainers to maximize their profits to help struggling fitness professionals take their business to the next level. The blog's creator, Bedros Keuilian says that he wanted to release these six tips because there aren't many low-cost and reliable resources out there for personal trainers to learn how to grow their business on a budget.
He says, "My hope is that personal trainers realize that there are more than a few different ways to increase and maximize the profits from their fitness business without them having to hire an expensive business consultant. These are things that every gym or studio owner should implement right away if they're looking to make more money- they're simple, low-cost, and you'll kick yourself for not knowing these six tactics sooner."
1. Raise the rates of your personal training programs, but make sure they get results. A lot of people who are new to operating a business think that they have to keep their rates low in order to stay competitive, but that's not the case when you're running a fitness business. Instead of competing with the big box gyms out there, try to find niche market that speaks to you and start charging what you're really worth.
2. Consider phasing out one-on-one personal training altogether and switching to group personal training. This type of training is more profitable because you're able to sign on more clients and leverage your time better. The average one-on-one training session is about 60 minutes and is usually reserved for more affluent people with disposable income, whereas the average group personal training session can be just 30 minutes in length and is more affordable for most people.
3. Implement electronic funds transfer (E.F.T.) right away to make sure that you have reliable income every month. Using auto-debit is a great way to make sure that your clients are up to date on their payments and gets you out of being a bill collector.
4. Become a one-stop-shop and sell other services and products to your clients. Offering other services or products such as meal planning, nutrition counseling, or supplements will help your clients get results faster and help increase your monthly profits.
5. Partner up with local business and create a joint venture to promote each other's businesses. There are tons of local shops, salons, spas, and doctor's offices that would be more than happy to promote your services if you return the favor and promote theirs. Plus, you'll set yourself up as to go-to fitness expert in your area if you partner up with multiple businesses.
6. Learn how to sell and market your services better. Invest in training, books, and other resources like videos to up your knowledge of sales and marketing. Marketing is important because that is what will attract potential clients, and being able to close nine out of ten sales will help increase your profits tenfold. The two work hand in hand and if you're lousy at one of them, then you're profits will suffer.
About PTPower.com
PTPower.com, first launched in the beginning of 2007, is a fitness business marketing blog created Bedros Keuilian to help personal trainers grow their business. Keuilian is a fitness business consultant and marketing expert who teaches personal trainers how to get more clients and achieve financial freedom. He is also the founder of the fast growing Fit Body Boot Camp franchise. To learn more about PTPower.com or the Fit Body Boot Camp franchise, please visit http://ptpower.com/ and http://www.myfitbodybootcamp.com/