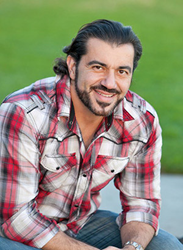 There's a lot of blood, sweat, and tears in making it a huge success, but there are plenty of things that you can do to get your profits up there...
Chino Hills, CA (PRWEB) February 26, 2014
An unstoppable fitness business is one that is highly profitable and helps as many members in its community lose weight and look great as possible, according to fitness marketing guru and founder of the boot camp franchise Fit Body Boot Camp, Bedros Keuilian. He's been in the fitness industry close to 16 years and knows exactly what it takes to create one of these "unstoppable" businesses.
He explains, "I know how difficult it can be and how stressful things can get when you're trying to grow your fitness business. There's a lot of blood, sweat, and tears in making it a huge success, but there are plenty of things that you can do to get your profits up there. I know because I've used this same formula to build up my personal training studios. I also share these secrets with my Fit Body Boot Camp owners which is one of the reason why they're so successful."
Keuilian starts out by suggesting that personal trainers and fitness business owners should focus on finding a traffic source for clients. Something that comes naturally to the personal trainer. For example, if a personal trainer is a good writer then a great way to gain exposure for them would be to call up local publications in their area and contribute articles. Or if a fitness business owner is proficient in social marketing, Keuilian recommends that they put those skills to good use and roll out a social media marketing plan to gain the interest of potential clients.
Another way to attract lots of clients for personal trainers is for them to create an offer that's inexpensive and an easier sell than their usual exercise programs. An offer along the lines of two weeks of personal training for $30 (as an example). That way someone who is interested but intimidated by price can get a chance to work with the personal trainer in question, and after the two week (or however long) period is over set up a meeting with them to discuss what they liked about their trial. Your chances of getting them to sign on will be much higher because they already know, like, and trust you and your services.
One of the best ways to maximize profits and to create an unstoppable fitness business is for business owners to start offering supplemental products that help clients achieve their goals faster. Keuilian says that there are many ways that you can do this. Start by offering supplements that, as a personal trainer, you'd actually want your clients using. Try offering nutritional support and meal planning for those clients who are struggling with their weight loss. Most clients will try to find this stuff on their own if they personal training studio that they belong doesn't offering, so you might as well offer what they want.
For more tips on how to grow a personal training business, check out Keuilian's fitness business marketing blog at http://ptpower.com/.
About Keuilian Inc.
Keuilian Inc. was founded by fitness business expert, Bedros Keuilian. Keuilian has been called the "hidden genius" behind many of the biggest names in the fitness industry – including top celebrity fitness trainers seen on television networks such as ABC and NBC. He is also the founder of the popular fitness business blog used by thousands of personal trainers worldwide, PTPower.com, and president and CEO of the world's fastest growing indoor fitness boot camp franchise, Fit Body Boot Camp. Keuilian is a long time fitness business coach, consultant, and marketing expert who has taught thousands of personal trainers worldwide how to start and grow a personal training business.
To find out more about Bedros Keuilian and his fitness boot camp franchise, please visit http://www.ptpower.com/ and http://www.myfitbodybootcamp.com/.