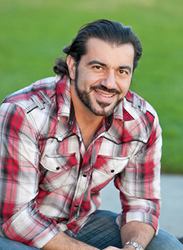 Hundreds of fitness professionals from all over the world come to learn how to double or triple their businesses.
Chino Hills, CA (PRWEB) January 14, 2015
The Fitness Business Summit was created as a response to the currently perpetuated structure of professional fitness training. This recognized system falls drastically short when preparing individuals for inevitable careers as entrepreneurs and businesspeople. Because this lack of training could transform an opportunity for growth into yet another economic disaster, Bedros Keuilian is actively working to counter these deficiencies with supplemental fitness business training.
"The inherent nature of a career in the fitness industry encourages nearly all trained and certified fitness professionals to found and operate their own, independent businesses," says Keuilian.
With the rising awareness of America's declining health averages, a growing supply of fitness centered businesses should find a warm welcome in the slowly recovering economy. With registration for Fitness Business Summit 15 now open, the market can progress with added certainty of success.
Keuilian is a renowned marketing expert and business consultant operating as a highly sought-after business coach in the fitness industry. He works with hundreds of clients each year helping individuals develop successful businesses and companies within the fitness industry.
He proudly announced the registration for the largest and most ambitious training event he has ever produced:
"The Fitness Business Summit is my life's work. It's where hundreds of fitness professionals from all over the world come to learn how to double or triple their businesses. Since 2007, Fitness Business Summit has helped over 15,600 fitness professionals worldwide. Each year it grows, gets better, and changes more lives. This year, with a projected attendance of over 600 attendees, the conference will be larger and more impactful then ever before."
Registration for the event is now open and Keuilian is offering a special "Early Bird" price of $397 for any who register prior to January 23. Registration is only accessible through FinessBusinessSummit.com and is only open as long as seats are available.
With the potential to "double or triple" hundreds of businesses across the country, Fitness Business Summit 15 stands to make a sizable impact on the recovering yet fragile American economy.
About Keuilian Inc.
Keuilian Inc. (est. 2007) was founded by fitness marketing and business consultant Bedros Keuilian, who has been named the "hidden genius" behind several of the biggest names in the fitness industry. In addition, he is also the founder of the popular fitness marketing blog, PTPower.com, and founder and CEO of the indoor fitness boot camp franchise, Fit Body Boot Camp.
To learn more about Bedros Keuilian and his fitness boot camp franchise, please visit:http://www.ptpower.com/ and http://www.myfitbodybootcamp.com/