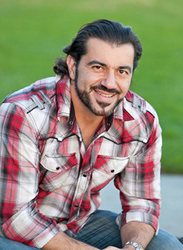 Fitness Business Summit 2015 boasts the highest number of attendees in event history
Chino Hills, Calif. (PRWEB) March 20, 2015
The Fitness Business Summit is the only conference designed to teach business and marketing systems to professionals within the fitness industry. Held annually and hosted by fitness marketing and business consultant Bedros Keuilian, the event is unlike any other educational system offered to fitness professionals. Hosted at the Westin Hotel in Costa Mesa, CA, this year's Summit will be held from March 27-29.
Fitness Business Summit 2015 boasts the highest number of attendees in event history, 650, and will also feature significantly more sponsors than any previous year. With 16 independent companies supporting the Summit in the form of paid sponsorships, the event is primed to provide more benefit to attendees than ever previously.
Sponsoring companies include Muscle Ropes, one of the largest battle rope manufacturing companies, the popular supplement company Ideal Shape, and FitPro Newsletter, the only email marketing software designed specifically for fitness professionals.
Sponsorship packages grant event attendees access to special discounts and promotions available nowhere else. These packages, designed by each sponsor exclusively for Fitness Business Summit, will help the hundreds of fitness professionals attending the event operate more efficient businesses. The hundreds of optimized businesses will then be enabled to hire additional employees, stimulate the economy, and ultimately help more individuals live healthier lives.
"Education in the fitness industry is hampered by a fatal flaw," said Bedros Keuilian. "Nearly every fitness professional will, at some point, be required to open their own business. It's the only way to make decent money in the fitness industry. But none of the accredited personal trainer certification programs offer business training. That's why I created the Fitness Business Summit, to teach those business systems that are missing from traditional fitness education.
"I've made it my life's mission to create and empower entrepreneurs. It's the lifestyle that has brought me happiness and I strive to help others find that same happiness. And the Fitness Business Summit is just one of the ways I get to do that."
For more information about the Summit or to purchase a ticket visit FitnessButinessSummit.com.
About Keuilian Inc.
Keuilian Inc. (est. 2007) was founded by fitness marketing and business consultant Bedros Keuilian, who has been named the "hidden genius" behind several of the biggest names in the fitness industry. In addition, he is also the founder of the popular fitness marketing blog, PTPower.com, and founder and CEO of the indoor fitness boot camp franchise, Fit Body Boot Camp.
To learn more about Bedros Keuilian and his fitness boot camp franchise, please visit:
http://www.ptpower.com/ or
http://www.myfitbodybootcamp.com/