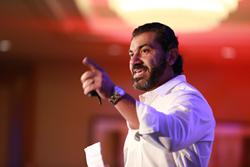 ...help thousands of Americans improve their health.
Chino Hills, Calif. (PRWEB) April 09, 2015
Fitness Business Summit is an annual business conference held each March in Costa Mesa, California. Fitness professionals come from around the country and the world to hear some of the most successful fitness entrepreneurs and business owners share knowledge and business strategies. This year, the conference boasted an unprecedented 700 attendees.
The conference is hosted by fitness business and marketing consultant Bedros Keuilian. Often referred to as the "Hidden Genius" behind some of the Internet's most popular and profitable online fitness products, Keuilian hosts the conference each year to solve what he calls "the biggest problem with the fitness industry today."
"The fitness industry has one major flaw," said Keuilian, "and it comes from the way fitness professionals are educated. They spend years learning how to become personal trainers and they all have walls full of certifications but none of that official education provides any business training.
"And that becomes a major problem for trainers who want to make decent money. There's really no way to make real money in the fitness industry without owning your own business. That's where I come in.
"My products, seminars and coaching programs are all designed to fill that void, to fix that fundamental flaw in fitness professional education: I teach personal trainers how to build successful and profitable businesses."
Keuilian is an entrepreneur himself, with multiple multi-million dollar companies in the fitness industry including his own fitness boot camp franchise. He takes the marketing and business skills honed within his own companies and shares them with businesses and business owners around the world.
The Fitness Business Summit is, by far, the largest platform from which he teaches his marketing and business lessons. Keuilian also invites over a dozen additional professionals to come and share their own experiences and advice with the conference crowd. He calls them "in-the-trenches" working professionals and they provide the presentations for his three-day long educational seminar.
With each of the Summit attendees returning home to implement the new client attraction and profit maximizing strategies, hundreds of fitness business around the country should experience a significant boost in sales and client numbers. While the effect on the economy will be positive yet minimal, the hundreds of fitness businesses with new clients and better practices will help thousands of Americans improve their health and increase their living standards.
About Keuilian Inc.
Keuilian Inc. (est. 2007) was founded by fitness marketing and business consultant Bedros Keuilian, who has been named the "hidden genius" behind several of the biggest names in the fitness industry. In addition, he is also the founder of the popular fitness marketing blog, PTPower.com, and founder and CEO of the indoor fitness boot camp franchise, Fit Body Boot Camp.
To learn more about Bedros Keuilian and his fitness boot camp franchise, please visit: http://www.ptpower.com/ and http://www.myfitbodybootcamp.com/