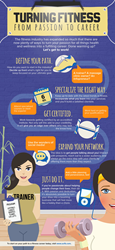 For a one-time investment you'll get a fun & informative graphic that both existing & new customers will want to look at and share over and over again.
Melbourne, Victoria (PRWEB) August 04, 2014
A special infographic was launched by Melbourne SEO Services, the Australian online marketing consultancy firm, to address all those interested in "Turning Fitness from Passion to Career". The graphic was developed for their client Australian College of Fitness and Bodywork.
As the fitness industry has evolved through the years, there is now a plethora of ways to turn the passion for it into a fulfilling career. But how does someone start in the industry? The first step is to define their path: deciding upfront what is right to reach their ultimate goal. The next step is to specialize : get informed about the latest trends and incorporate them in methods to build a satisfied clientele.
Certification plays an integral role and shouldn't be taken lightly. All those interested should seek an accredited institution to get certified to enhance their credibility, therefore add a competitive edge. Networking and actively engaging in Social Media will increase the number of potential clients. Last but not least, potential students should follow their passion in changing people's lives. Passion, planning and perseverance are crucial ingredients for success.
David Jenyns, CEO of Melbourne SEO Services, explains "the word infographic is derived from combining 'information' and 'graphic' to equal a visual representation of knowledge, facts, stats and other data used to present complex information quickly and clearly." When selecting an infographic for a business, it is important to select the type and pick the most suitable from the different formats available. A quality infographic from Melbourne SEO Services costs only $495 (+ GST where applicable).
And Mr. Jenyns adds "for a one-time investment you'll get a fun & informative graphic that both existing & new customers will want to look at and share over and over again."
Check more infographics and further details at http://www.melbourneseoservices.com/seo-services-australia/infographic-starter/
About Melbourne SEO Services
MelbourneSEOServices.com is a full service online marketing consultancy, based in Australia, but with a worldwide client base. Known for being at the cutting edge of strategic online marketing practices, the company delivers a growing suite of services including: on-page and off-page search engine optimisation, article distribution, Google Places listing, press release services, web video production, one-on-one consulting and much more.
Melbourne SEO Services Director, David Jenyns, has, over several years, built a team of experts who are niche experts to support the business, and who share his ethos for ethical, professional internet marketing.