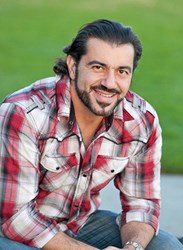 FitPro Newsletter, the popular automated fitness email marketing system created by Bedros Keuilian, is offering a 30 day trial for 1$ in order to help personal trainers grow their business...
Chino Hills, CA (PRWEB) February 05, 2014
Starting an online newsletter for any given business is an extremely economical way to market and is a tactic that most personal trainers don't take enough advantage of. In an effort to help fitness business owners get more out of their marketing budget, FitPro Newsletter is now offering a 30 day trial of its popular automated fitness email marketing system for just $1.
"Personal trainers who own a business should be emailing their prospects on a consistent basis with great content and expert advice. If they're not, they're leaving a ton of money on the table," explains the creator of FitPro Newsletter, marketing expert Bedros Keuilian. "I believe that any fitness professionals can use email to create a strong marketing system that attracts lots of clients. It's just a matter of creating emails that people will want to open, and online newsletters are perfect for that."
Already used by thousands of personal trainers around the country, FitPro Newsletter was originally created to attract more clients and generate referrals without much effort from the user. One of the biggest struggles of fitness email marketing is coming up with good enough content that gets open, read, and responded to. FitPro Newsletter is said to solve this issue by delivering a "done-for-you" weekly newsletter that is full of healthy recipes and interesting fitness articles that helps to position the user as a fitness expert.
Keuilian says, "This system was made to be quick and easy so personal trainers have more time to spend with their clients. As a FitPro Newsletter subscriber, personal trainers will get access to prewritten promotional email campaigns along with their weekly newsletter that will basically allow them to generate clients and referrals on demand."
Not having a big enough email list to market services to? FitPro Newsletter also helps personal trainers build their subscriber list by including nine different "lead magnets" to choose from. Lead magnets are an excellent way for fitness business owners to grab the email address of someone who may be browsing their website. FitPro Newsletter even shows subscribers how to add this feature into their own website.
This fitness email marketing system is completely customizable, allowing personal trainers to have complete control over their newsletter and add in their own content if they choose. Not just an average online newsletter, FitPro Newsletter also allows personal trainers to send out broadcasts whenever they chose. This is beneficial if they want to promote a sale or special offer of some kind.
To take advantage of FitPro Newsletter's 30 day $1 trial, please visit https://fitpronewsletter.com/
About FitPro Newsletter™
FitPro Newsletter™ is an automated fitness email marketing system created by marketing expert Bedros Keuilian. Designed to get personal trainers more clients effortlessly, FitPro Newsletter delivers weekly health and fitness content, manages contacts, and integrates with social media to give personal trainers an edge when marketing their business online. To learn more about Bedros Keuilian and FitPro Newsletter, please visit http://ptpower.com/ and https://fitpronewsletter.com/