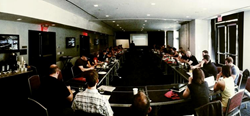 The first thing personal trainers need to do is to identify a problem and then create a product that solves that problem
Chino Hills, CA (PRWEB) June 11, 2014
Bedros Keuilian is considered one of the masters of creating fitness information products that sell and that bring in new business for personal trainers and fitness boot camp owners.
As the founder of the international Fit Body Boot Camp franchise and a renowned fitness marketing coach, he's not only used these products for his own companies, but also teaches his clients how to harness their marketing potential. According to Keuilian, personal trainers with their own info products build credibility and trust while they're making additional income.
"It's a win-win situation all around," says Keuilian. "The personal trainer gets visibility, establishes himself as an expert and creates additional income or leads. Meanwhile, the customer gets fitness information products that add real value to their lives and help them achieve their goals."
Keuilian says there are three keys to creating a product that gets results for trainers and their customers alike.
"The first thing personal trainers need to do is to identify a problem and then create a product that solves that problem," he explains. "Everyone has different obstacles to fitness and weight loss. Choose one that you have some great solutions for and you'll have a product that has integrity and that will sell well."
Keuilian says that coming up with the subject of the product is half the battle and that the next steps are much easier. As he explains in his video on creating fitness information products, the next step is to decide how to deliver the product. "There are so many ways a trainer can go with these products. They can deliver them as an e-book, as a modular course with several parts or as a follow-along video. All of these are really good vehicles for information on weight loss and fitness topics and all of them can be either free products that generate leads for your business or paid products that generate more direct income."
Keuilian adds that the modular course has an added advantage of being a very evergreen product that people can subscribe to weekly or monthly, and says that these types of vehicles are excellent for transformation challenges and fat loss diets.
He explains that once the fitness information product has been created, it's time to actually sell it.
"There are two really good options as far as selling the product, regardless of the delivery method. The first is a written sales letter, such as you find on a squeeze page. The other is a video sales letter." Keuilian adds, "Both of these work when they're done well, but I always strongly suggest that people spilt test their marketing letters. You don't know what's working and what isn't unless you compare your marketing materials. Try one for a week and then try the other. Then save your money by ditching or tweaking the method that's not getting results."
Keuilian says that fitness info products have done so well for personal trainers and boot camp owners that he doesn't see them losing popularity anytime soon.
"Whether trainers are trying to make a second stream of income, bring more customers through their doors or just build a sizable email list, information products are inexpensive to create yet incredibly effective."
About Keuilian Inc.
Keuilian Inc. (est. 2007) was founded by fitness marketing and business consultant Bedros Keuilian, who has been named the "hidden genius" behind several of the biggest names in the fitness industry. In addition, he is also the founder of the popular fitness marketing blog, PTPower.com, and founder and CEO of the indoor fitness boot camp franchise, Fit Body Boot Camp.
To find out more about Bedros Keuilian and his fitness boot camp franchise, please visit http://www.ptpower.com/ and http://www.myfitbodybootcamp.com/.