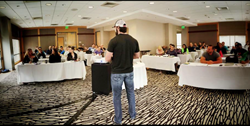 Fitness information products establish credibility, build visibility and dramatically increase a personal trainer or fitness professional's reach
Chino Hills, CA (PRWEB) June 13, 2014
Bedros Keuilian is a fitness marketing consultant as well as the founder of the global fitness franchise, Fit Body Boot Camp. Now, teaching his members and clients how to create their own online fitness information product has become a large part of his coaching process.
"Fitness information products establish credibility, build visibility and dramatically increase a personal trainer or fitness professional's reach," says Keuilian. "That's one of the reasons we developed our own newsletter several years ago for personal trainers to send to their clients. The FitPro Newsletter is just one type of information product that trainers can use to build their business, but I always recommend that they eventually create and sell their own."
Keuilian says that creating and launching a product is fairly simple, but can seem overwhelming to a first-timer. He adds that a having a fitness information product checklist has helped both him and his clients.
"None of the steps to launching a product are complicated or difficult," he explains. "But you want to do things in the right order and you want to make sure that you've covered everything before you're ready to launch." Keuilian went on to share some of the essential steps.
"Once you've actually created the product, the first things you need to do are to create your sales copy and to get some feedback on it from people you trust. I recommend using both a traditional sales letter and a video sales letter and then split-testing them."
Keuilian says the next step is to have a graphic designer create the cover art, a web banner and other images. "If you don't know anyone personally, you can find someone through one of the freelance sites," says Keuilian. "Also, if you see an info product that has graphics you really like, go ahead and contact the author and ask for the artist's name."
Once the graphics are in place, Keuilian says that getting approval from Clickbank and testing their sales process for the product are next on the to-do list. "If you're not using Clickbank, then you can skip to the next step, which is making sure your website is ready to go."
He explains that this involves making sure the server is prepared for a sudden sharp increase in traffic, testing to be sure that all links and pages are functioning and that any affiliate links are added correctly. Next, the sales and marketing process begins.
"Having a great product is only half the task. It'll just sit there unnoticed unless it's actively marketed," he says. "Using an email auto-responder to market the product to your contacts is one of the best methods. So is putting a squeeze page on Facebook and asking your followers to spread the word. In fact, I think that's one of the best ways to generate interest in a fitness information product."
Keuilian adds that once the first product has been created and launched, the framework for future products is already laid. "After that, it's faster and easier to turn out great products that generate a ton of new leads and an extra stream of income."
About Keuilian Inc.
Keuilian Inc. (est. 2007) was founded by fitness marketing and business consultant Bedros Keuilian, who has been named the "hidden genius" behind several of the biggest names in the fitness industry. In addition, he is also the founder of the popular fitness marketing blog, PTPower.com, and founder and CEO of the indoor fitness boot camp franchise, Fit Body Boot Camp.
To find out more about Bedros Keuilian and his fitness boot camp franchise, please visit http://www.ptpower.com/ and http://www.myfitbodybootcamp.com/.