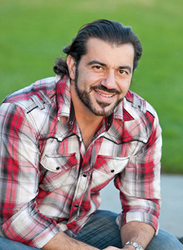 If a personal trainer or fitness business owner wants to make $100,000 a year, they need to make $8,333 per month or $277 per day in a 30-day month.
Chino Hills, CA (PRWEB) June 12, 2014
Bedros Keuilian propelled his first five fitness boot camps into an international franchise with over 500 locations throughout the world. Now he coaches fitness business owners on growing their own companies. He recently spoke about the common goal of making six-figures and says that even making $100,000 a year is unusual for most personal trainers, but he finally hit it when he started working backwards.
"Thirteen years ago, I had never made anywhere near $100,000 in a year. Not even close," he says. "I remember thinking what a huge number it was and feeling a little discouraged. But then I decided to break it down and try to make it more manageable mentally."
That process of breaking it down is something Keuilian now calls "reverse engineering" when he's coaching his clients. "Basically, I tell my clients and fitness boot camp owners to come up with a figure that they want to hit and then work backwards to figure out how much they need to make each month and each day and then plan how to do it.
"If a personal trainer or fitness business owner wants to make $100,000 a year, they need to make $8,333 per month or $277 per day in a 30-day month. It's still the same end figure, but it's a lot easier for most people to tackle $277. It's a mental thing, but that sense of being up against overwhelming numbers often holds people back from taking the steps that will get them there."
Keuilian says that the specificity of the daily number helps personal trainers start thinking more specifically about how to grow their businesses. "Wanting to hit $100,000 was too vague for me and it made my ideas too vague as well. When I broke it down to $277, it was like a light suddenly went on and I could work the problem."
His solution became his first fitness boot camp, which quickly turned into five. "I knew that if I wanted to make $277 a day, I wasn't going to be able to continue training clients one-on-one," he explains. "But I realized that if I were training ten or twenty people at a time in thirty-minute sessions, then $277 was nothing at all."
Keuilian's fitness boot camp business model was a huge success, but he eventually hit on a plan for making six-figures without spending so much time selling and marketing his boot camps.
"In order to keep that $277 per day coming in, you either have to keep after clients to buy another month of training, which is exhausting and inefficient, or you have to set clients up as recurring members." Keuilian says that once he started signing every client up in six-month, one-year or two-year memberships with automatic payments, he was able to reduce his working hours dramatically, yet his business exploded into what is now the fastest-selling fitness business in the world.
"This is the same process that all of my fitness boot camp owners now follow," he explains. "They may run special deals now and then, but most of their clients are on six-month or one-year agreements. When you have enough of those clients to fill ten or twelve 30-minute sessions per day, $100,000 becomes your first step, not your end goal."
About Keuilian Inc.
Keuilian Inc. (est. 2007) was founded by fitness marketing and business consultant Bedros Keuilian, who has been named the "hidden genius" behind several of the biggest names in the fitness industry. In addition, he is also the founder of the popular fitness marketing blog, PTPower.com, and founder and CEO of the indoor fitness boot camp franchise, Fit Body Boot Camp.
To find out more about Bedros Keuilian and his fitness boot camp franchise, please visit http://www.ptpower.com/ and http://www.myfitbodybootcamp.com/.