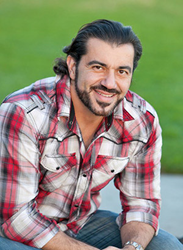 "You can spend thousands of dollars per year on marketing campaigns and still lose clients by the truckload if you forget that you are your most visible and most compelling advertisement," says Keuilian.
Chino Hills, CA (PRWEB) May 22, 2014
Many personal trainers are blaming the economy or tight marketing budgets for a decline in their client base. But renowned fitness marketing expert Bedros Keuilian says that he's witnessed a disturbing negative trend that he feels is really to blame.
"You can spend thousands of dollars per year on marketing campaigns and still lose clients by the truckload if you forget that you are your most visible and most compelling advertisement," says Keuilian.
Keuilian, the founder of Fit Body Boot Camps, with over 1000 franchises worldwide, is known as one of the leading experts in fitness marketing. He is also the founder of Marketing Fitness 101, which coaches personal trainers and fitness boot camp owners on effective marketing techniques for their businesses. But as he reveals in his latest fitness marketing video, more marketing is not going to counter the #1 problem that he has been seeing lately among trainers.
"We talk a lot in my company about using 'human billboards' and what I mean by that is giving your clients great transformational results so that they become walking advertisements for your training business," says Keuilian. "It's the best fitness marketing tool there is. "
Keuilian goes on to explain that when prospects see current clients that are a little out of shape, they may give the trainer the benefit of the doubt, assuming that the client may be new, skipping classes or not following the trainer's advice. But if the trainers themselves are out of shape, there's no way to counter that in the prospect's mind.
"I've been seeing a negative trend in the last couple of years," he explains. "More and more trainers are twenty or thirty pounds overweight because they're spending so much time running and marketing their businesses that they're neglecting their own fitness. You cannot get a prospective client to sign a contract with you if you're in the same boat he or she is in."
As Keuilian explains, this is becoming a serious problem for personal trainers whose businesses have grown a great deal in the last couple of years. "When a personal trainer is working one-on-one or leading several classes a day, they tend to get plenty of workout time every week. But once they've grown to the point that staff members are doing the training while they run the business, things tend to fall apart."
"Trainers have to be their own most important client. They have to be in incredible shape, even if they're putting in a ton of hours growing their fitness businesses," he says. "The trainer's body is the front line of every fitness marketing effort they make. They need to constantly be on guard against falling prey to the very same mistakes that have made their clients overweight and out of shape."
Keuilian suggests that fitness business owners make their own workouts their first appointment of the day and treat that appointment with the same respect and accountability that they would a client appointment. He also advises trainers to plan ahead for busy days by bulk-cooking healthy meals on the weekends to rely on throughout the week.
"If you're so busy that you can't cook and you're pulling into the same drive-through that you tell your clients is off-limits, there's trouble ahead," says Keuilian. "Follow the same advice you give your clients. Don't forget to apply the same guidelines for fitness and nutrition to your own life. Yes, it's hard to maintain your own level of fitness when you're running a business, but it's even harder to bounce back from months of neglect."
As Keuilian points out, that task becomes even more difficult when coupled with declining membership due to the trainer's condition.
About Keuilian Inc.
Keuilian Inc. (est. 2007) was founded by fitness marketing and business consultant Bedros Keuilian, who has been called the "hidden genius" behind many of the biggest names and highest profiting businesses in the fitness industry. In addition, he is also the founder of the popular fitness marketing blog, PTPower.com, and founder and CEO of the indoor fitness boot camp franchise, Fit Body Boot Camp.
To find out more about Bedros Keuilian and his fitness boot camp franchise, visit his blog http://RenegadeFitnessMarketing.com and http://www.myfitbodybootcamp.com/.