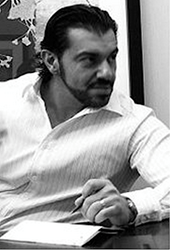 As I explained at Fitness Business Summit 14', specialists can command much higher rates in virtually any industry.
Chino Hills, CA (PRWEB) October 31, 2014
Bedros Keuilian's annual Fitness Business Summits are considered one of the foremost fitness marketing events of the year, with seats selling out well before the registration deadlines. In addition to Keuilian's presence, speakers such as Craig Ballantyne and Jason Feruggia are a huge draw. But the main point of attendance is to learn marketing strategies that work and a video just uploaded by Keuilian shares a full hour from Fitness Business Summit '14 on selling high-priced fitness programs.
"A lot of personal trainers and fitness boot camp owners get really nervous about selling their flagship programs or even pricing their flagship programs appropriately," says Keuilian. "They have a hard time believing that they can sell personal training programs than run $5,000, $10,000 or even $15,000 per year, but people do it all the time. At the Fitness Business Summit last year, we showed everyone how."
Keuilian adds that he frequently shares sessions from the Fitness Business Summit and other exclusive events in order to allow people who were unable to attend to benefit from the information shared.
"Not everyone can get away for a couple of days to attend a summit and not everyone can afford the ticket price, either," he says. "But when we can, we try to share information with other trainers and fitness entrepreneurs online. I don't think giving that information away is counterintuitive; my companies were founded on principles of giving and paying forward."
In the one hour fitness marketing video, Keuilian explains that one of the main reasons "celebrity" or nationally-known fitness trainers can command so much money is that they've established themselves as authorities, become known as specialists or both.
"As I explained at Fitness Business Summit 14', specialists can command much higher rates in virtually any industry. In the medical field, a specialist makes much more money than a general practitioner," says Keuilian. "The same is true in fitness. Trainers who are known for fat-burning or strength and conditioning or training Baby Boomers can also command higher rates."
Keuilian also explains that establishing a reputation as a local expert is key to being able to sell higher-priced training packages.
"You have to be known in your area as the local expert, the local authority," says Keuilian. "As we explain in the video, there are a number of ways to do that, from blogging to email newsletters to Facebook to participating in local events."
"Becoming known as a local expert is probably one of the most important fitness marketing moves a trainer can make and those who do that can ask for and get anywhere from 5-10 times the rates of anyone else in their area."
About Keuilian Inc.
Keuilian Inc. (est. 2007) was founded by fitness marketing and business consultant Bedros Keuilian, who has been named the "hidden genius" behind several of the biggest names in the fitness industry. In addition, he is also the founder of the popular fitness marketing blog, PTPower.com, and founder and CEO of the indoor fitness boot camp franchise, Fit Body Boot Camp.
To find out more about Bedros Keuilian and his fitness boot camp franchise, please visit http://www.ptpower.com/ and http://www.myfitbodybootcamp.com/.