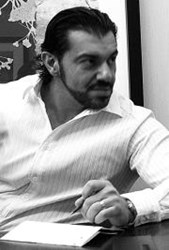 Personal trainers need to implement speed and take action in order to be successful in their businesses.
(PRWEB) July 02, 2013
As most fitness entrepreneurs already know, growing a personal training business is tough. There are a lot of different things to take into consideration and with so many things to consider, it can be hard for fitness business owners to know which aspects of their business they should concentrate on. That is why the country's top fitness marketing coach, Bedros Keuilian, has released his top 11 ways to grow a personal training business.
He explains, "I wanted to share a checklist of eleven things that will grow a personal training business because it's important for me to help make more ambitious personal trainers successful as fitness business owners." He adds, "personal trainers need to implement speed and take action in order to be successful in their businesses."
Here are Keuilian's top 11 ways to grow a personal training business:
1. Implement Electronic Funds Transfer (EFT) in your business sooner, rather than later. Fitness business owners should never have to chase down clients for payment each month.
2. Leverage your business by hiring staff and making them the technicians so you, as the owner, can become the manager/entrepreneur.
3. Know the sales process. If fitness business owners are not using a systematized sales process then most likely letting clients fall through the cracks.
4. Be a marketer first and a personal trainer second. If fitness business owners want to have the a good impact on their community and their income then they have to know how to market themselves and their business to others.
5. Use a client management system of some kind to manage clients, monthly payments, check ins, and trainer schedule. Mind Body Online, Volo, and ShapNet are all really good platforms for managing your business.
6. Create a culture of referrals in your business. Making referral giving a condition of doing business with you. Referrals are the best source of leads because they cost fitness business owners nothing and come pre-qualified.
7. Hire an assistant and outsource the things that you don't like doing and the things that don't bring in money to your assistant. As a fitness business owner, your focus should be on the 5% of the critical few things that drive your passion and profits, and your assistant should do the other 95% which are the things that have to get done.
8. Relentlessly manage time and work off lists. This is one of the best ways to grow a personal training business because working off of lists forces the average personal to accomplish things faster.
9. Make sure your personal training website establishes that you are the local fitness and fat loss expert, and back it up with social proof (testimonials and before and after pictures).
10. Deliver what you promise and bring an energy that clients and members won't be able to find anywhere else. Go out of your way to do the things that competitors won't do.
11. Build an email list of local prospects, clients, past clients, business and media contacts. And then write to that list as if there is an already established friendship. Remember to be consistent and send about 2-3 emails per week and periodically make special offers.
About Bedros Keuilian
Bedros Keuilian, CEO of the company PT Power and President of the fitness boot camp franchise Fit Body Boot Camp, is a long time fitness marketing and personal training sales expert who has helped thousands of personal trainers worldwide grow their personal training businesses. To find out more about Bedros Keuilian, his company PTPower, or Fit Body Boot Camp, please visit http://www.ptpower.com, and http://www.myfitbodybootcamp.com