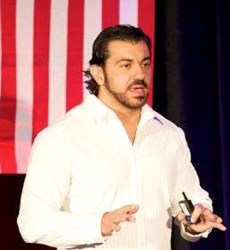 These are the only two reasons why personal trainers not where they want to be with their business and why they seem to be constantly 'busy' but not getting anything done.
Chino Hills, CA (PRWEB) September 19, 2013
Bedros Keuilian, fitness marketing expert and founder of the popular fitness marketing blog PTPower.com, knows firsthand the struggles that personal trainers face when branching out to start a new business venture. Because there are a lot of things to consider when opening a new personal training facility or business, Keuilian believes that personal trainers get easily sidetracked with things that don't necessarily drive their new business forward causing them to forget about more important things like marketing and building strategic relationships with local business owners.
"If personal trainers make excuses like they're too busy getting their new business in order or if they tell themselves some other type of lie, then they should stop! It all boils down to priorities and time management and dropping your excuses. If growing a fitness business is a big enough priority to them, then they'd make time for it. If it's not then they'll keep whining and making excuses," says Keuilian
Here are the top two reasons personal trainers fail to be more productive in their business and how they can easily overcome it:
1. They're doing things that someone else who can be getting paid $12 an hour should be doing.
It's easy to get distracted with calls and everything else that goes into starting a personal training business, but it's important for personal trainers to realize that they can't do it all, nor should they.
New fitness business owners should use the 5% Rule, and the 5% Rule says that they should only do the things that bring in clients, make the sales, and keep the referrals coming in.
The other 95% of the tasks that need to get done in order to keep their new business moving forward like answering phones, running payments, chasing downing clients and their payment info, doing fitness evaluations, and even administrative duties like payroll can all be done by someone else, like an administrative or personal assistant.
Basically, a new fitness business owner's job should be to spend 100% of their productivity time on their 5%.
2. They don't ruthlessly protect and manage their time.
Proper time management is crucial, especially for new fitness business owners, so when it's not managed well it hinders productivity and causes the business owner to get overwhelmed to the point where important things get missed.
The best way for personal trainers to start properly managing their time is to work off lists each day and do the most important things on that list first. Also, it's vital that they shut off all distractions like phone calls, emails, and Facebook. New fitness business owners should focus on carving out a 2-3 hour chunk of time during the day that they're most productive and where you can get the most done without interruption.
Keuilian says, "These are the only two reasons why personal trainers not where they want to be with their business and why they seem to be constantly 'busy' but not getting anything done."
About Keuilian Inc.
Bedros Keuilian, known as the "hidden genius" behind many of the most successful brands and businesses throughout the fitness industry, is a renowned fitness entrepreneur and longtime fitness marketing expert who specializes in teaching personal trainers how to start a fitness business. In addition to being the founder and CEO of FitPro Newsletter and FitPro Magazine, two software technologies used by thousands of fitness professionals worldwide to attract more clients, build their business, and boost their profits, he is also the founder of the popular fitness marketing blog PTPower.com and president of the world's fast growing indoor fitness boot camp franchise, Fit Body Boot Camp. To find out more about Bedros Keuilian or the fitness franchise, Fit Body Boot Camp, please visit http://www.ptpower.com and http://www.myfitbodybootcamp.com