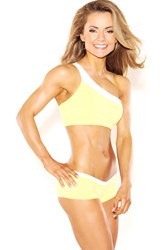 Alexandra is personable, professional and a perfectionist which is how I've been described, so we work together well! This is going to be more than just a photo shoot – it will be an experience to remember.
(PRWEB UK) 31 August 2013
Handpicked for his specialist fitness photography, Matt Marsh has a deep industry knowledge, years of experience and an innovative, contemporary style and has photographed fitness personalities such as Nina Simone Ross, Sam Briggs, Melissa Haywood and Beth Workman. Matt joins the Alexandra Wilson 'Fitness Model Finishing School' team alongside fashion brands Better Bodies, Myla and Biondi Couture who are providing wardrobe for the photo shoots. More experts are to be announced soon.
The School takes place at trendy fashion shoot venue the Milliners Loft, Shoreditch, London – which has played host to shoots featured in Elle, Cosmo, Vogue and Look Magazine, and to fashion icons such as Kate Moss, McQueen, Mario Testino and Tim Winter.
The official launch of the Fitness Model Finishing school website will be announced very soon were you can read all about the course and book to attend. The School will enable women who've been working hard on their fitness and physique – or those who need a goal to work towards - to celebrate their fitness journey with the help of training and coaching from the ultimate fitness modelling dream team.
There will be only 14 places on the course: and the women might be in any walk of life or career, or they may already be working in the industry as fitness trainers, sports or dance instructors or aspiring fitness models. They'll take away tips, tricks and modelling secrets from top industry experts, along with photos, a video and goody bags.
Alexandra says: "The school is part finishing school, part personal consultancy, and part academy - with an emphasis on fun and celebration. Students will leave with hundreds of tips, tricks and modelling secrets –a portfolio of beautiful photographs to celebrate their transformation and a video of the weekend."
Matt said: "Alexandra is personable, professional and a perfectionist – which is how I've been described, so we work together well! This is going to be more than just a photo shoot – it will be an experience to remember."
About Alexandra
Alexandra is a fully qualified personal trainer with a wealth of experience in the industry, creating personalised fitness and nutrition plans and online coaching programmes to inspire and motivate people to look, feel and be their best.
She recently became one of the first people in the world and one of only 20 selected from the UK to be given the status of 'Physique Elite Master Trainer' by world-renowned trainers Neil Hill and Kris Gethin, and is also a Jennifer Nicole-Lee Master Fusion Trainer. She has been featured in modelling shots in, and written articles for, a variety of magazines in the UK and abroad (Red, Health & Fitness, Now, Women's Fitness, Ultra Fit, Fit and Firm, ExtraFit and Fitnorama). She is an ambassador for the 'Better Bodies' range of fitness clothing, the face of Biondi Couture's fitness competition range and Mark Anthony's 'Body Trainer' exercise device, and the main partner in the UK and Europe for fitness media company BodyFX's new range of supplements.
To find out more about Alexandra, receive a free 'I will make you lean' e-book, sign up for her free e-news containing tips, advice and information and receive details of new programmes as they launch, visit: http://www.alexandrawilson.com.