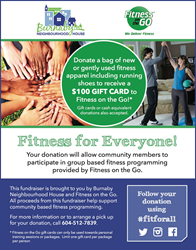 Burnaby, British Columbia (PRWEB) December 29, 2014
"Finding innovative ways to support our community members to make healthier choices is something I'm passionate about and proud to be a part of," states Beth Spooner, General Manager of Fitness on the Go.
Donations not only allow community members the opportunity to participate in group based fitness programming but also the opportunity to become advocates for fitness in their community. Following the program, participants will champion ongoing local fitness initiatives, such as walk clubs. "The opportunity to grow an individual's leadership capacity while moving towards a healthier community is what makes this initiative so unique and exciting," says Spooner.
For more information or to donate please call 604-762-0307 or visit, http://on.fb.me/1wD0YE1. You can also follow the initiative using #fitforall.
Fitness on the Go has serviced over 6500 clients to date and is Canada's largest in-home personal training fitness franchise with over 100 personal trainer across the country, servicing over 30 cities. Fitness on the Go will send a certified in home personal trainer to a client's home to help them get fit and will work with them to develop a customized fitness plan that will help them reach their goals. No equipment is needed — the only requirements are some floor space, 60 minutes, and a positive attitude.
Burnaby Neighbourhood House is a grassroots, community driven, charitable organization that welcomes residents and provides supportive programs and services throughout communities in Burnaby. Serving an excess of 3000 children and their families every year through programs such as child care, immigrant support, family resource programs, youth leadership, and the storefront drop-in. With a wide range of accessible and affordable programs, Burnaby Neighbourhood House strives to address the needs of families and individuals who are struggling with the daily challenges of living on a limited income.