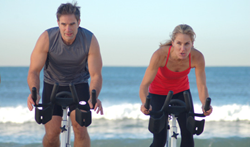 The moms in our studio are buying EnergyFirst's products for themselves and their kids because of how effective they are and because they're not loaded with stimulants or other supplements that may not work or that may be harmful.
Manhattan Beach, CA (PRWEB) July 08, 2014
Fit On Studios specializes in indoor cycling (spinning), TRX and Barre. As a growing and thriving studio, Fit On owners wanted to find the best nutritional products to offer their clients for pre and post workouts.
They researched the marketplace, which is saturated with products loaded with chemicals, shaky theories and artificial sweeteners, until they found EnergyFirst, a leading provider of science-based nutritional supplements, healthy lifestyle products and educational resources.
"I've been researching and taking whey protein powder for years," Fit On Studios Co-Owner Michael Stadvec said. "We want the best product. We want something that's affordable, natural, works for our clients and is something that people can tolerate. EnergyFirst's ProEnergy whey protein is a great tasting, lactose-free product. I like that it's flavored with stevia and I can control what I mix with it. I wanted, and got, with ProEnergy, something natural, something that produces results and something that doesn't have any junk in it."
In addition to EnergyFirst's ProEnergy Whey Protein, Fit On Studios also features EnergyFirst's Greenergy Superfood powder, which Stadvec finds to be an excellent way for he and his clients to get their recommended servings per day of vegetables with antioxidants that's also sugar-free, gluten-free, vegan, and made with certified organic ingredients. Stadvec suggests a scoop of EnergyFirst's OmegaEnergy Mix as an immunity boost with its dose of fiber and Omega 3's. He's also found that EnergyFirst's Permalean Bars aid in workout recovery and in maintaining fat burning after a workout. Fit On's clients have also responded very positively to Prefuel, EnergyFirst's pre-workout powder, and have experienced higher performance levels while exercising.
Angela Bennett, co-owner of Fit On, is a big fan of EnergyFirst's ProEnergy vanilla protein powder and uses it as her first meal in the morning. She also eats a Permalean Bar between her fitness classes to keep her energy up.
"I like to have a bar every day because I teach two classes a day. I have one between my spin class and my 30/30 class to get the energy I need for my next class," says Angela.
"Our clients lead busy lifestyles and instead of skipping meals or eating food with empty calories, we are finding that proper supplementation using EnergyFirst products helps our clients keep their energy up throughout the day," Stadvec added. "They do not experience blood sugar spikes or midday lethargy."
Stadvec notes that his own experience with EnergyFirst's supplements has been 18 pounds of fat loss, better immunity, and stronger workouts. He finds the all-natural and vegetarian quality of the supplements unique in the nutrition industry.
"I'm a believer that results should speak for themselves. The moms in our studio are buying EnergyFirst's products for themselves and their kids because of how effective they are and because they're not loaded with stimulants or other supplements that may not work or that may be harmful," Stadvec added.
Gerry Morton, CEO of EnergyFirst, said, "I've known Michael for a long time and I'm thrilled that our products are working well for him and for Fit On Studios. People who are serious about their bodies want supplements that work, and they also want to know they are taking high quality, all natural products. EnergyFirst's line of products fills this growing niche."
__
About Fit On Studios:
Combining the high-energy, low impact nature of indoor cycling, with the sculpting, toning benefits of Barre and TRX weight training, Fit On Studios delivers results and improves mental wellness in a boutique setting. Founded by Franca Stadvec and Angela Bennett, who were best friends since college and now neighbors in Manhattan Beach, Fit On was born out of their passion for health, fitness and community. In addition to offering workout space and personal training, Fit On Studios offers special events and features renowned speakers to help members deepen their understanding of well-being and health education.
About EnergyFirst:
EnergyFirst, a leading company in the all-natural protein and supplement industry, was founded in 1997. We, at EnergyFirst, believe that everyone can benefit from drinking a protein shake whether the goal is optimal nutrition in a meal replacement, an easy and healthy breakfast alternative, a weight loss aid, or a protein supplement for athletes. We also believe that your protein shake should be 100 percent natural and delicious. EnergyFirst offers healthful and high quality products, including ProEnergy, a whey protein isolate derived from the milk of grass-fed, antibiotic-, growth hormone- and rBGH-free cows; Greenergy Superfood for antioxidant and immune system support from certified organic ingredients; Prefuel all-natural sugar free pre-workout supplement, and Permalean Protein Bars.
###
Keywords: EnergyFirst, ProEnergy, whey protein isolate, Greenergy, OmegaEnergy Oil, OmegaEnergy Mix, Prefuel, Permalean Protein Bars, EnergyONE Mega Plus ACE, Gerry Morton, Michael Stadvec, Angela Bennett, essential fatty acids, Los Angeles, Manhattan Beach, California, Barre, TRX, Indoor Cycling, Fit On Studios.