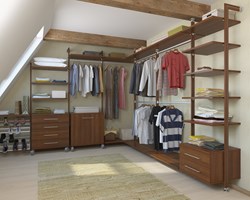 Our bespoke fitted furniture comes with a rock solid 15 year warranty
London (PRWEB UK) 22 January 2014
Be it the recession, planning regulations or just the growing trend for downsizing and cutting out excess, more and more people are living in small spaces. Even in the US, where land is plentiful and houses traditionally huge, the Urban Land Institute recorded an unprecedented demand for "efficient living space" in 2013. And with programmes such as Channel 4's George Clarke's Amazing Spaces gathering a huge mainstream following, the trend is here to stay in the UK.
London-based bespoke furniture manufacturers Paolo Marchetti Interiors, have seen a increase in orders for specially-tailored fitted wardrobes, bedrooms and kitchens over the past year. With increasing numbers of people looking to make the most of small spaces, bespoke furniture has become highly sought after.
As the number of people looking to live more efficiently grows, here are the experts' top five tips for 'right-sizing' your home and making small spaces seem larger, stylish and more comfortable.
Be bold with colour
Use clear, bold colours to create the impression of expanded space. Hot reds and electric blues will help walls look as if they're receded, whilst painting one wall a different or deeper colour than the others will help break up your flat or apartment into separate work areas. Consider large fabric wall hangings and decals to add talking points.
Bespoke fitted designer furniture
Large, over-sized pieces of furniture will make your flat look like a dolls house, so it may be time to consider taking that huge dresser to the charity shop and offering up your bulky bookcase for recycling. Getting tailor-made bespoke furniture such like sliding wardrobes which perfectly fits the dimensions of your room will save space and look stylish. Bespoke furniture can also be made to be multi-purpose, saving both space and money. Manufacturers like Paolo Marchetti Interiors work with clients to create the best furniture for individual rooms.
Kill clutter
If you live in a small space, it may be time to de-junk your life a little. Consider what you need, how long it was since you used certain items and curb any duplicates (there will always be some when you start co-habiting). Have a garage or car boot sale and make some money from your decluttering.
Work out your living space priorities
It may sound obvious but it's something not that many of us really consider when we move into a new home. If you're out a lot, do you really need a separate dining area? If you work from home a lot, would it be better used as a home office? Don't feel restrained by traditional living arrangements and make sure your space fits your life as best it can.
Create separate zones
If you don't have many (or any) interior walls, be creative about separating your space into different living areas. Group furniture together, pull items away from the walls and place shelving or screens in areas where you would like some privacy.
So there are five key tips for living in small spaces. As a trend that shows no signs of slowing down, it really is time to think how we can all live a little smarter in a little space.
Visit Paolo Marchetti website or call 020 7435 2292 / 020 7580 8786 and take advantage of our rock solid 15 year warranty on walk in wardrobes, bedrooms and living room furniture.