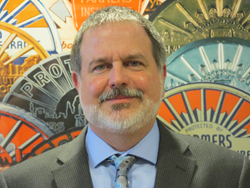 Many people do not see the importance of it until it is too late.
Marysville, OH (PRWEB) February 19, 2015
Douglas Fitzpatrick shares over thirty years of experience and expertise in the insurance industry, and is now offering more life insurance options that Farmers Insurance has rolled out. As life insurance is not expendable, Doug says the start of a new year is always a good time to assess where one stands financially and what is covered in their life insurance policy. Many people do not see the importance of it until it is too late. They don't stop to think whether they have enough in insurance for their families to function without them. Doug says, "Not only are family members dealing with the grief of losing someone they love, but they have to figure out how to handle funeral costs and then from there; life, bills and mortgages."
It is important to set up a life insurance policy as soon as possible, preferably while young and healthy and have something in place that is one's own policy, not simply a policy through work. If something happens with the job, the policy stays with the person. There are many people that have group plans at work, but don't really understand the ins and outs and if they are fired or retire, they lose those plans.
"I had a client who, when she retired, lost her life insurance from her group plan and because she had been treated for cancer previously, she then could not afford the premium of life insurance," said Doug. "In addition this client's daughter was in a bad accident and now needs special care. My client was scared to death that if something was to happen to her, she wouldn't have enough life insurance to take care of her daughter."
In the February 5, 2015 Wall Street Journal article, Why Life Insurance Isn't Expendable, a 68-year-old man works with his business adviser, pushing to cut his $500,000 life insurance policy. The article states, "In light of their recent financial troubles, the adviser explained, the benefit would provide an important income stream for the client's wife in his absence." The 68-year old man chose to keep the life insurance policy, which proved to be a good choice, as the article went on to say, "Sadly, the decision paid off sooner than the client or Mr. Motske had anticipated. The man died of a heart attack six months later. A portion of the death benefit paid off his business' debt and tax liability, and the rest went to his widow--who was grateful to Mr. Motske for convincing her husband to retain the policy."
In addition to Farmers' life insurance policies, Douglas Fitzpatrick offers auto, home, and commercial insurance. Doug's office is located at 129 N. Main St., Marysville, Ohio 43040. For an insurance quote or for more information, please call Douglas at 937-243-5510.
About Fitzpatrick Insurance Agency, LLC
This is a locally owned and operated Farmers Insurance Agency serving Central Ohio.
About NALA™
The NALA is a full-service marketing agency providing custom personalized service for small and medium businesses throughout the United States.
PR Contact: Tiffani Tendell
ttendell(at)thenala(dot)com
805.650.6121, ext. 361