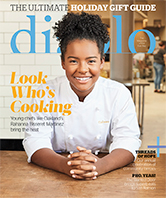 The judges consider each nominee's length of service, hands-on involvement, and community impact.
SAN FRANCISCO (PRWEB) November 26, 2018
Diablo magazine's five 2018 Threads of Hope award recipients, who are featured in the December issue, include Gary Guarisco of Safe Refuge for Children + Families, Lisa Sweet with Sweet Beginnings Family Resource Center, Anna Lijphart with Oasis Legal Services, Carol Gilliland with Contra Costa Interfaith Housing, and Chau Yoder with Cancer Support Community San Francisco Bay Area.
Every year since 1995, Diablo magazine has solicited nominations from its readers for outstanding volunteers who selflessly offer their time and energy to charitable causes and organizations in the East Bay. A panel of judges then selects the honorees to be featured in the December issue and at the Threads of Hope Awards ceremony. The judges consider each nominee's length of service, hands-on involvement, and community impact.
The 2018 judges include the following business and community leaders: Jeri Boomgaarden, managing director of donor services and senior development officer of the East Bay Community Foundation; Mark Flower, senior vice president and regional managing director of Wells Fargo Private Bank; Gaby Ghorbani, founder and CEO of Pledge to Humanity; Carole Wynstra, board member with the Walnut Creek Library Foundation.
Diablo magazine, in partnership with Wells Fargo Private Bank and gold sponsors Contra Costa Oncology and Xfinity, will recognize the honorees with an awards presentation at the Orinda Theatre on December 6. Jessica Aguirre, weeknight co-anchor of NBC Bay Area News at 6 p.m. and 11 p.m., and host of Class Action, a weekly segment on public education in California, will be the Mistress of Ceremonies.
The December issue of Diablo magazine, including the Threads of Hope feature story, is available online at diablomag.com and on newsstands.
To nominate an outstanding volunteer to be considered for the 2019 Threads of Hope awards, visit diablomag.com/threadsofhope.
ABOUT DIABLO MAGAZINE
Covering topics ranging from travel, culture, and personalities to entertainment, recreation, and food, Diablo magazine is written specifically for the San Francisco East Bay market—from Central Contra Costa, into the Oakland and Berkeley hills, and throughout the Tri-Valley. With locally driven editorial content, beautiful photography, and resource listings, Diablo magazine is a unique celebration of the San Francisco East Bay. Published since 1979, Diablo magazine has been recognized for its editorial and design with numerous awards, including previous Maggie Awards for Best Overall Publication and Best Regional and State Magazine in the consumer category.
ABOUT DIABLO PUBLICATIONS
For over 39 years, Diablo Publications, an employee-owned company, has been creating award-winning publications, including Diablo magazine, Napa Sonoma magazine, Diablo Weddings, Diablo Arts, Concierge Wine Country, and the Tri-Valley California Visitors Guide. Diablo Publications' custom content division, Diablo Custom Publishing(DCP), provides complete print and online marketing communications and customer publishing services for corporate clients nationwide. For more information visit diablomag.com to view our retail publications and dcpubs.com to learn more about custom publishing.