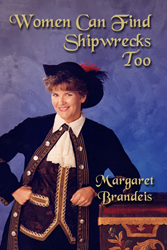 SANDPOINT, Idaho (PRWEB) April 29, 2019
In this outrageously, captivating autobiography of an explorer/adventurer, Margaret Brandeis just wants to find some sunken Spanish treasure. Unfortunately treasure hunting has a way of attracting kooks, crooks, lunatic captains and rivals, and Margaret encounters them all. Her 17 year quest takes her to the Bahamas, the Caribbean and South America where they start calling her La Bucanera…..the female buccaneer. She tries every gizmo ever invented for finding sunken treasure while exposing the funny antics that go on behind-the-scenes of an investor-backed expedition. What makes the book astonishing, is how this crazy adventure evolves into an enlightening journey into how the physical universe functions. Margaret discovers the hidden force that transforms our internal thoughts into the reality we experience. Something the reader never anticipated when they opened the book.
THE REVIEW at Goodreads: "Highly entertaining and a great read. This book gives an honest look at treasure hunting for lost treasure ships. Margaret had a wild and crazy ride during her treasure hunting days. The story pulls you into her emotional rollercoaster journey. Her journey ended with a different treasure than silver or gold. This story had a much different ending than I expected which turned out to be fantastic. It was refreshing to read a treasure story that painted things in a true life perspective. The story kept my attention from beginning to end. I highly recommend this book for an enjoyable read."
Brandeis Book Publishing P.O. Box 446 Sagle, ID 83860 Phone: 541-226-7006 Email: Buckshobbithouse(at)outlook.com
ORDER A COPY OF "Women Can Find Shipwrecks Too" in PRINT or EBOOK from Amazon.com or your bookstore.