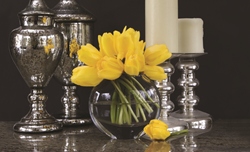 When contemplating placement, keep in mind that accessories and art should be things you treasure. Avoid falling into the trap of accumulating too much "stuff."
New Orleans, LA (PRWEB) April 15, 2014
Do you wish your budget would allow you to hire an interior designer to give your décor a makeover? Do you feel like, regardless of how hard your try, you simply cannot pull off the perfect "look?" Do you desire to give your space meaning and not just fill it with "stuff?" New Orleans-based designer, Chet Pourciau shares his "Five DIY Rules to Decorating Like a Pro" without the expense of hiring one.
Work with What You've Got
We often turn to magazines and the Internet for our design inspiration. While these are great outlets to get ideas, remember to factor in the actual space you are working with and make sure your plan takes into consideration the logistics of your room. Having a plan before you start your project will ensure a successful completion. Use a floor plan to lay everything out on paper. Make sure the space will function well and that the traffic flow works. To avoid rookie mistakes, consider your room's architecture and vibe and choose things that play off of that. For instance, if your space has a lot of curves, like archways or a curved staircase, bring in some geometric fabrics to contrast. The same thing goes for a space with too many angles. Soften it up with a round coffee table or buy accessories that are curved.
Accessories, Accessories, Accessories
A room without accessories is like a well-dressed woman who forgot to put on earrings. Accessories give your space the finishing touches that pull the entire look together. The professional designer looks for a few well-chosen pieces to define your room and elevate it from nice to wow! When looking for your key accessories, remember to look for items that will support your main elements without overtaking the room. The shoes should not outshine the dress. Stick with pieces that complement the palette, tone, and size of your room. Take chances with mixing materials and patterns to bring your design scheme to the next level. For example, if you have an unusual accent chair, try upholstering it in an interesting fabric. It is also important to choose things that won't date quickly and that you won't get tired of.
Everything Has Its Place
Once you've chosen the perfect accessories, experiment with placement. Common spots like side tables and mantels are great starting-off points, but also consider other areas that are noticeable when you enter a room. If you're anchoring a longer surface with your accessories, like a console table, try groupings of threes and fives. When contemplating placement, keep in mind that accessories and art should be things you treasure. Avoid falling into the trap of accumulating too much "stuff." It's better to leave a space empty until you've found exactly the right piece to fill it than to clutter it with items that you may not really want.
Know How to Budget
You don't have to break the bank to get the professional look you're after. The key is to know what you have to splurge on and where you can cut costs. The area that deserves a great deal of attention is proper lighting. Your space cannot look its best without it and this is an investment that will go along way in making your space really shine. Another area to consider giving a larger portion of your budget to is buying a high-quality rug made of natural materials like wool or silk. It will wear well, look even better over time and has a way of really pulling your design scheme together. An area that you can afford to cut costs without cutting appeal is the paint department. Try picking colors from the higher end companies and then taking those colors to your local home improvement store to have them color matched. You can literally save hundreds of dollars. Give your room an extra sparkle by painting the walls and trim in the same color of paint, but in two different finishes, such as eggshell on the walls and gloss on the trim.
Take Your Time
Even the best designers occasionally get ahead of themselves with ambitious timelines that are just not feasible. Personally, the thing that mostly gets in my way is that I plan to accomplish too much over the weekend. I end up not finishing and my DIY project sits against a wall or on the floor until next the week. It is okay to allow yourself plenty of time to complete your project. A work of art takes time to create. It requires a lot of thought, inspiration, consideration and may entail a few do-overs before it is all said and done.