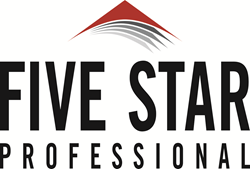 Research That Recognizes Outstanding Professionals
(PRWEB) September 20, 2016
Five Star Professional's mission is to recognize those who stand out, and to help wealth managers and other outstanding professionals differentiate themselves from their competition. In an effort to ensure all of our award-winning advisors get maximum value from their Five Star Wealth Manager award and adhere to regulatory requirements, we are pleased to offer best practices in award disclosure compliance.
Committed to Transparency and Compliance:
At Five Star Professional, we consistently maintain a leadership position with regard to transparency, disclosure, regulatory engagement and compliance practices. We frequently review our disclosures and practices to align with state and SEC guidelines and are in regular communication with relevant regulatory bodies.
Detailed information regarding our research methodology, selection process and award criteria have always been published in each Five Star Professional magazine award section. We publish additional program detail that is both accessible and easy to link to on FiveStarProfessional.com, along with important disclosure information and market statistics (i.e., number of candidates considered, number of award winners for each market/year).
One-click: Best Practices for Advisors and Firms
When referencing your Five Star award online – in an email, on your website or through social media – make sure proper disclosure is no more than one click away from your mention of the Five Star award by hyperlinking to the disclosure for the market in which you received the award. Click here for market disclosures.
When using Five Star Professional digital marketing tools such as the Digital Spotlight or Online Profile, note that we have ensured that the standard Five Star Professional disclosure is one click away at all times. Additionally, we offer each advisor and firm the ability to add a customized firm disclosure as needed.
About Five Star Professional:
Five Star Professional conducts market research to define and promote professional excellence in wealth management and all professions we serve.
Five Star Professional joins forces with city and regional magazines to make the research results available to consumers and promote these award-winning professionals in more than 45 markets across the United States.
Five Star Professional was founded in 2003 and is based in Eagan, MN.