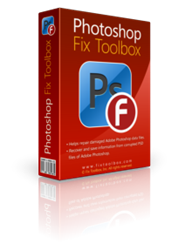 Quickly and easily fix a Photoshop file with data corrupted in any kind of incidents.
Sacramento, CA (PRWEB) January 05, 2014
Fix Toolbox, one of the leading global suppliers of powerful, intuitive and fast data recovery tools for mainstream software, announces the availability of the latest version of Photoshop Fix Toolbox, the company's award-winning product for quick and hassle-free recovery of data from damaged Photoshop files. http://www.photoshop.fixtoolbox.com/
Created mostly for Photoshop professionals, the program, however, has an interface easy enough to be used by people with basic computer skills and no previous recovery experience. The UI has a bare minimum of controls and uses a multi-step wizard to assist the user throughout the recovery procedure. http://www.fixtoolbox.com/
The software requires absolutely no additional components, libraries or frameworks to operate – Photoshop Fix Toolbox is ready to work "out of the box" and comes with everything necessary for fast and problem-free PSD recovery. The data analysis core of the program has been completely rewritten and now relies on several intelligent algorithms working together for maximum efficiency. http://www.fixphotoshopfile.com/
The software can help fix a Photoshop file with data (of any size) corrupted as the result of a hard drive failure, a virus attack, a system crash and other factors. An integrated file browser allows the user to preview recoverable elements of damaged PSD files prior to their extraction and view their properties.
"This release is an important milestone for our company, since we are doing our best to move all our products to the new platform," explained Boris Bobrov, CTO of Fix Toolbox. "So far, our experience has been extremely positive and Photoshop Fix Toolbox is no exception. The new core gave it a solid performance boost, improved stability and enabled it to handle files that seemed impossible to recover just weeks ago."
The free demo version of Photoshop Fix Toolbox can be downloaded from the official website of the company. http://www.fixtoolbox.com/download.html