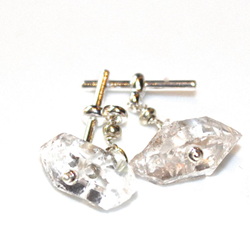 These cufflinks provide a young, fresh gemstone look for dressy occasions and look equally great dressed down with a blazer and jeans.
Washington, D.C. (PRWEB) April 07, 2015
FizzCandy Jewelry (http://www.fizzcandy.com) in association with The Artisan Group will gift its Raw Stone Cufflinks at GBK's 2015 MTV Movie Awards Weekend Gift Lounge, taking place April 10-11, 2015 at an exclusive location in Hollywood, California. FizzCandy will also have select pieces from its Spring/Summer 2015 Collection on display.
Mila and Payton Bartos are the co-founders of FizzCandy Jewelry and are known for their handcrafted jewelry that incorporates natural elements and polished gemstones together. The Raw Stone Cufflinks will be gifted in a variety of gemstone ways, including Herkimer Diamond Quartz, Rough Emerald Nugget, Caribbean Larimar and many other variations. Each pair of cufflinks will be presented in a tiny clear box with the FizzCandy logo sticker, nestled inside a branded bag with a pink ribbon.
Payton notes the cufflinks can be worn by both men and women and pair well with casual and dressy outfits. "These are perfect to celebrate any French-cuffed occasion," she says. "They provide a young, fresh gemstone look for dressy occasions and look equally great dressed down with a blazer and jeans."
FizzCandy will be displaying at the Artisan Group exhibit its Herkimer Diamond Quartz and one-of-a-kind Watermelon Tourmaline Cufflinks along with its adjustable gemstone rings in Herkimer diamond quartz, rough opal, and watermelon tourmaline. Also on display will be the company's new adjustable charm rings in turquoise and silver and emerald nugget and gold.
The cufflinks and adjustable rings are available to purchase online at fizzcandy.com.
As a mother-daughter team, FizzCandy Jewelry brings a unique viewpoint to the marketplace. All jewelry is handcrafted to order using the highest quality, thoughtfully-sourced components.
For spring 2015, Mila notes the popularity of the company's Raw Diamond jewelry. "The look of raw diamonds has been popular because it is an affordable and unusual way to incorporate real diamonds in jewelry," she remarks. "On the opposite side of the coin, we are seeing our Druzy Shell Necklaces are also flying out the door. They are so unusual; it is not often that you can wear a fossil that is over 500 million years old!"
FizzCandy Jewelry has been seen on Season 5 of the CW Network's "The Vampire Diaries" and showcased on display and included in The Artisan Group celebrity swag bags at GBK's Gift Lounge for the 2014 MTV Movie Awards and the 2015 Golden Globe Awards. Selections from the Gem*Stones Collection were included in The Artisan Group's 2014 Earth Day Gift Bag, which was delivered to some of Hollywood's most high-profile, environmentally-conscious celebrities, including Jessica Alba, Emma Watson, Edward Norton, Adrian Grenier, Will.i.am, Robert Redford, Leonardo DiCaprio, Drew Barrymore, Woody Harrelson, Jessica Chastain, Anne Hathaway and many others.
To learn more about FizzCandy Jewelry and its participation in GBK's MTV Movie Awards Weekend Gift Lounge, contact Mila Bartos by email. Follow the company on Facebook (@FizzCandy), Twitter (@fizzcandy) and Instagram (@fizzcandyjewelry). To learn more about The Artisan Group, visit theartisangroup.org.
ABOUT FIZZCANDY JEWELRY
Washington, D.C. based FizzCandy Jewelry (http://www.fizzcandy.com) is the home of the handcrafted jewelry designs of mother/daughter team Mila and Payton Bartos. Each piece of FizzCandy jewelry is individually designed and handcrafted to order by Mila and Payton themselves. FizzCandy Jewelry strives for excellent craftsmanship and customer service.
Payton is an accomplished softball player and a high school student. She brings her discerning eye to all of FizzCandy's jewelry creations. She is as comfortable drawing as making jewelry and she always has a new project in mind. She loves Chai lattes and macaroni and cheese.
Mila is a closet entrepreneur and designer. She likes to source unique and special gemstones from around the globe. She works with Payton to design FizzCandy jewelry designs and handles all marketing for the company. In her free time, Mila is a lawyer. She loves chocolate chip cookies and coffee.