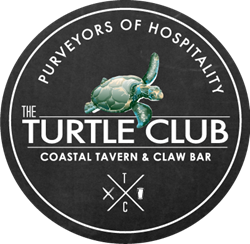 The Turtle Club is our neighborhood place, the convivial tavern on the corner that thrives on gracious hospitality. -- Peter Tierney
Punta Gorda, Florida (PRWEB) November 12, 2014
The city's historic downtown dining district has a new menu that combines favorites and fusions with a gourmet flair at a Punta Gorda restaurant – The Turtle Club – the Coastal Tavern and Claw Bar on Marion Avenue, opening Oct. 20 at 4 p.m.
The Turtle Club Restaurant menu – developed and produced by Chef Andy Hunter in partnership with Peter Tierney and Michael D. "Mick" Moore – features a gracious array of full-on favorites: whole Maine lobster and Pine Island Blue Crab alongside a classic shrimp cocktail and market fresh oysters chilling on a bed of ice at the restaurant's magnificent Claw Bar, for example. In the main dining rooms, snacks and starters range from down-home pork wings and corn on the cob to a hearty Tavern Salad served with the chef's original take on buttermilk ranch dressing. Turtle Club diners won't want to miss Oysters Turtlefeller and fresh ceviche – unique, cold seafood salads with garnishes.
For the main course, diners can opt for simple fare revved up a notch with the Tavern Burger and 1000 Keys Sauce, or the grilled fish sandwich and its amazing sweet pepper remoulade. Pasta dishes – Roast Pork Papperdelle – choice steaks, Grilled Mahi Mahi, Nashville chicken with Tennessee toast, pan-seared shrimp and sausage, low country style, and more round out the dinner menu that reflects the philosophy of the house: Great food served with gracious hospitality.
The Turtle Club Coastal Tavern and Claw Bar opens the front gates of its red-brick foyer at 139 West Marion Avenue in the heart of Punta Gorda at 4 p.m. Monday, Oct. 20.
Menu prices range from $4 for the house sweet pickles and other snacks in the $7 to $12 range. The magnificent Claw Bar can be enjoyed at every level, from $12 for Pine Island Blue Crab Claws to a full tour-de-force for four people at just $58. Starters and salads range from $8 up to $16 for the Turtle Club's most famous Oysters Turtlefeller. Dinner selections start at $12.
Travis Winesett, chef, and Christopher Evans, general manager, both native sons of Charlotte Harbor, have teamed up to revitalize the landmark restaurant at the city center. "We have created a space that welcomes old friends to the best place in town for gracious hospitality and fabulous food." Evans said.
The Turtle Club is the result of an extraordinary team, Evans said. "We have enjoyed the opportunity to partner with Peter Tierney and Michael D. "Mick" Moore – an exciting adventure for me, our team, and the whole community," Evans said. "Their philosophy of gracious hospitality is the cornerstone of their success at all their Southwest Florida establishments."
"The Turtle Club is our neighborhood place, the convivial tavern on the corner that thrives on gracious hospitality—a welcoming and relaxing place where guests enjoy casual dining and a beer after work, as well as come together for special occasions," he said.
Hospitality has been ingrained into every feature of the Turtle Club. From its gracious entrance to its first dining room, the restaurant's coastal tavern charm promises food, friends, and good taste—in every sense.
The Turtle Club restaurant in Punta Gorda, FL offers unique settings in each of its spaces. An impressive fireplace area is flanked with ceiling-high bookcases, reminiscent of an exclusive club. The Claw Bar area evokes a coastal tavern spilling the abundance of the day's catch on a bed of crushed lemon ice. And, ultimately, each guest will migrate to the spacious patio that surrounds a burbling fountain. Twinkling lights and a vine-walled enclave evoke a secret garden—the perfect place to linger under the stars with a glass of wine and old friends.
The management and staff invite one and all to join them for a gracious first night on Marion beginning at 4 p.m. Monday, Oct. 20, 2014.
More About Gracious Hospitality
The Turtle Club Raw Bar and Coastal Tavern is located at 139 West Marion Avenue in historic Punta Gorda, Florida 33950; phone (941) 637-9477. Ample free parking is just steps away. Hours are 4 p.m. to 11 p.m. Friday and Saturday; 4 p.m. to 10 p.m. Sunday through Thursday. Reservations are available but not required. Private spaces, including the Tuscan garden style outdoor patio, may be reserved for special parties and large events. Attire is coastal casual. Menu, food, bar, and service regularly earn top ratings from patrons and reviewers alike. The restaurant is operated by Christopher R. Evans; Travis Winesett is head chef.