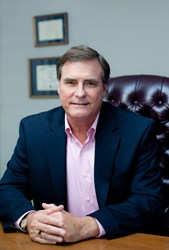 "We are especially proud to be considered for this award," said Sefcik. "This recognition is a testament to our hard work, innovation, and support."
Winter Park, FL (PRWEB) July 17, 2013
Employment Technologies Corporation (ETC), the world's leading expert in simulation-based assessments, is pleased to announce that they have been selected as a first round finalist for Florida Companies to Watch.
Florida Companies to Watch was developed by the Edward Lowe Foundation as an exclusive way to honor second-stage companies who exhibit innovative business strategies and processes. Presented by GrowFL, the Florida Economic Gardening Institute at the University of Central Florida, in association with the Edward Lowe Foundation and with programmatic support from the Florida Department of Economic Opportunity, Florida Companies to Watch celebrates the top 50 companies headquartered in Florida who are deemed to be "worth watching." The winners will be announced in early August and will be honored at the awards gala at the Hard Rock Live at Universal City Walk in Orlando on October 24.
A pioneer in simulation-based employment testing, Joseph Sefcik founded ETC in 1995. Under his leadership, ETC revolutionized the hiring process for companies worldwide by replacing traditional text-based employment tests with highly realistic, interactive simulations.
"We are especially proud to be considered for this award," said Sefcik. "We have built a reputation since our inception to be the employment solution of choice for many businesses throughout Florida and the world. This recognition is a testament to our hard work, innovation, and support."
Employment Technologies Corporation (ETC) is the pioneer and world's #1 developer of employment simulations. A five-time winner of the prestigious Human Resource Executive, "Top HR Product of the Year" award, ETC's signature line of EASy Simulations® improve hiring, accelerate employee performance, and inspire success. To learn more, visit http://www.etc-easy.com.
GrowFL provides strategies, resources and support to second-stage companies for next level growth. By supporting companies with Strategic Research and peer-to-peer CEO mentoring, GrowFL helps companies overcome obstacles to growth and leads them towards prosperity. Based on the philosophy of Economic Gardening — to grow existing businesses in a community, region or state — GrowFL is the program of the Florida Economic Gardening Institute at the University of Central Florida and is a critical component to the state's economic development strategy and Florida's entrepreneurial ecosystem. During the pilot program from 2009-2011, GrowFL helped more than 400 companies create 1,400 new jobs and had an annual economic impact of $510.4 million. At the beginning of 2013, that number has grown to nearly 700 companies supported by GrowFL. For more information: GrowFL.com