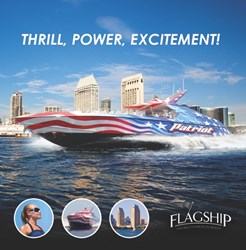 San Diego, California (PRWEB) October 08, 2013
VP of Marketing for Flagship Cruises & Events, Timothy Mutrie, announces the launch of their newest jet boat on the San Diego Bay, the "Patriot". This high-speed water born tourist attraction will host a Grand Opening Media Day Saturday, October 19th, 2013 at 10am on the San Diego Bay. Media and the general public are both encouraged to attend. The event will be held at 990 North Harbor Drive, next to the USS Midway.
The Patriot Jet Boat is the newest and most thrilling harbor tour San Diego Bay has to offer! Climb aboard and hold-on for this exciting 30-minute harbor tour. You will be thoroughly entertained as wave's splash, the music plays, and the wind roars on this tour of a lifetime!
It's a blast on the bay while riding on the Flagship Patriot. It departs from 990 N. Harbor Dr., home of Flagship Cruises & Events, next to the USS Midway. With two 1,400 horsepower turbo-charged engines thundering, 139 passengers will zip past the Coronado Bridge and zoom around San Diego Bay. The Patriot provides thrilling 360-degree turns and spinns on a dime creating a sensational and exciting raw powered harbor tour! Come take a ride on October 19th. Boarding is at 10am and Flagship Patriot departs at 10:30am.
Jet Boat Harbor Tour Schedule:
EVERYDAY: 10:30am, 12:30pm, 2:30pm, and 4:30pm*
*Weather permitting
Rates: Adult: 12 years and over: $27.00
Child: 4-12 years: $22.00
Flagship Cruises & Events
Delighting San Diego passengers since 1915, Flagship Cruises & Events offers extraordinary experiences in San Diego Bay, including gourmet dinner cruises, harbor cruises, holiday parties, private charters, corporate events, weddings, award-winning brunches, whale watching, ferry services, and water taxis. The unchanging part of this historical company's operations is their commitment to providing quality services at the best value to visitors and residents of San Diego. Their multilevel yachts are adorned with luxury finishes and cruise along 25 miles of waterfront scenery, to deliver a locally-sourced gourmet dining experience that is widely recognized as the best in its class.