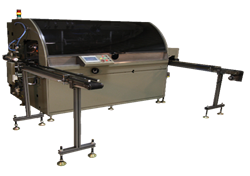 Hillsboro, Oregon (PRWEB) October 13, 2014
FLARE Incorporated is introducing the new FLARE MS-Series Mechanical Automated Screen Printer with UV LED curing from Phoseon Technology. The screen printer is suitable to print on various shapes of cylindrical, elliptical, and flat containers at up to 4,000 pieces per hour for cylinder containers. The automatic multi-color screen printer models from one to five colors, providing flame treatment, precision registration, screen printing, and UV LED curing in each single color module. The input conveyor is compatible to automatic feeding devices. This printer is widely used in the cosmetic, personal care, and medical plastic packaging industry. FLARE will spotlight the printer at SGIA 2014, Las Vegas, October 22-24, 2014.
UV LED curing technology offers many benefits to direct printing applications. The small size of the UV LED light sources makes them ideal for machines with limited space. UV LED also allows for printing on heat-sensitive substrates. UV LED technology enables users a longer product life, low maintenance, energy savings and zero ozone emissions. Printing directly on containers eliminates the need for label substrates, offering a new solution for innovative bottle designs and consumer engagement.
Over the last two decades, Flare Inc. has developed a national customer base for custom bottle tooling. Based on customers' specifications, their tooling is custom designed to fit each size of container. Flare Inc. is a leader in designing tooling for unusual shapes and sizes, which are otherwise very difficult to handle. In addition to providing tooling to apply silk screen designs directly to bottles and containers, Flare also offers bottle decoration, tooling for shrink-sleeve and bottle labeling applications. For more information visit: http://flareincusa.com/.
About Phoseon Technology
Phoseon Technology is the world leader in providing UV LED solutions for commercial and industrial applications. Phoseon's products deliver maximum UV energy, high performance, and real-world reliability for UV LED curing of adhesives, coatings and inks. The Company provides worldwide sales and support capabilities and can be reached at http://www.phoseon.com.