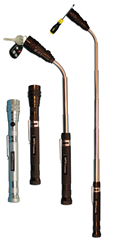 Multi Functional Tool for Much Less
Lewisberry, PA (PRWEB) September 21, 2013
Have you ever dropped something made of metal in a hard to reach place that just happens to be magnetic. Whether you are an auto mechanic or technician or somebody active around the house or car, two tools comes to mind for retrieving the part. You might even say out loud, "Where are a flashlight and a extendable magnet when you need them".
The IMPEL Tronics product featured here is a flashlight with an extendable magnet(TeleMag) that gives not only a flashlight, but is extendable magnetic at both ends! This bright 3 LED Flashlight throws out a bunch of light and is packaged as a sturdy aluminum telescoping magnet that includes a strong stainless steel pocket clip. The TeleMag can be extended from a compact 6.75" to almost 22".
So, there you have it, you can now get "more for less". You're getting two tools packaged as one without the "two tool" price, which is less cost. You're also getting more freedom in the use of the other hand in not having to hold two separate tools. This improves user safety and still accomplishes the task, and that of course is to retrieve your precious part.
To learn more about this TeleMag Tool contact IMPEL Tronics directly.
or visit http://www.impeltronics.com
Media Contact
Michael Pastal
717-440-1680
mpastal(at)mcpsupply(dot)com