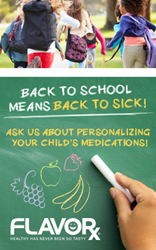 the simple act of customizing the taste of medicine can transform a normally stressful endeavor for the whole family into a more pleasant and successful wellness experience.
Columbia, Maryland (PRWEB) August 12, 2015
Summer is coming to an end and families are getting ready to go back to school. As parents gear up for the new school year, there might be one thing they are forgetting: tissues. Every school day about 55 million students and 7 million staff attend more than 130,000 public and private schools in the United States. Even though many schools encourage sick children to stay at home, the chances of getting sick increases drastically the moment children walk through their school's doors. With that in mind, FLAVORx has launched a new campaign to help pharmacies educate their school-age patients about the importance of taking their medicine.
"During cold and flu season countless antibiotics are prescribed and many of them won't be taken properly due to the common struggle of medicine-time," said Dr. Ursula Chizhik, FLAVORx Director of Pharmacy Programs. "Pharmacies with FLAVORx help by improving the palatability of medications and giving children the choice in the matter. A lot of medications come already flavored but the simple act of customizing the taste can transform a normally stressful endeavor for the whole family into a more pleasant and successful wellness experience."
According to the Center for Disease Control and Prevention (CDC), in the United States, seasonal cold and flu activity most commonly peaks between December and February, but flu viruses can cause illness from early October to late May. Viruses like the cold or flu can spread from person to person through coughs and sneezes of infected people or surfaces, making back to school time a more likely time for children to get sick. If a child does get sick, it is very important that they take the prescription as prescribed and adhere to the medication.
With FLAVORx Pharmacists can recommend customizing the taste of medicine to ensure customers are getting the most positive outcomes possible. While typical pediatric medication adherence rates, a measure of how well people follow their medication regimen, hover around 50% to 60%, multiple studies indicate this number jumps to over 90% when medications have the taste customized by the pharmacy staff.
Once a pharmacy begins to offer the service of customizing the taste of liquid medications, FLAVORx supplies them with best tools possible to help market the services. Some of the more notable materials are the seasonal marketing pieces, available to download from the FLAVORx website. The seasonal marketing materials give pharmacies POS pieces for their store as well as digital assets for their website and social media sites. Pharmacies can also download the company's newly released iPhone app. The FLAVORx app is a fast and easy way pharmacies and families can find the best taste options for a child's medication.
FLAVORx, a Maryland-based biotech company, has been helping children take their medicine since 1994. The Pediatric System is available in nearly 45,000 chain and independent pharmacies. By using the copyrighted flavoring recipes, pharmacists have safely flavored more than 65 million prescriptions and over-the-counter medications, reducing stress levels for parents and giving children some control over their own wellness. The company's mission is to improve lives and health-related outcomes through higher medication adherence.