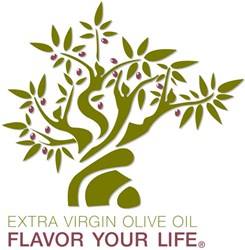 Bohemia, NY (PRWEB) January 28, 2014
Flavor Your Life, a European Union funded campaign dedicated to providing the latest in olive oil industry news, explains how to make restaurant-quality golden risotto balls filled with prosciutto, peas, and artichokes and fried in extra virgin olive oil.
The filling for this recipe calls for:
¼ cup shredded mozzarella
¼ cup canned artichoke hearts, well drained (about 2 hearts)
1 oz. (about 1-2 thin slices) prosciutto
2 tsp. grated Parmesan cheese
2 tsp. chopped Italian parsley
2 tbsp. frozen baby peas, thawed
3 cups prepared risotto, well cooled
1 large egg, lightly beaten
The shell for this recipe calls for:
1/3 cup all-purpose flour
1 large egg lightly beaten with 2 tbsp. of water
½ cup dry breadcrumbs (plain or seasoned)
3-4 cups extra virgin Tuscan olive oil for frying
Prepared tomato sauce, for serving (opt.)
To make the filling, first place the mozzarella, artichokes, prosciutto, Parmesan, and parsley in a food processor and pulse until the mixture is finely chopped. Place the mixture in a small bowl, stir in peas, and set aside.
In a large bowl, mix together the prepared risotto with 1 lightly beaten egg until it is well combined. Roll the risotto-egg mixture into 14 (1 and1/2-inch) balls. Poke a small hole in the center of each ball, insert about 1 teaspoon of the mozzarella-prosciutto filling mixture into each hole, and then firmly re-form each into a ball. Be sure to completely seal in the filling.
To make the coating, first place the flour, water mixture, and breadcrumbs in three separate bowls. Dredge each filled risotto ball in flour and shake off the excess. Dip risotto balls in the egg, allowing excess egg to drip off, and then roll balls in breadcrumbs and place on a sheet of wax paper.
Heat 2 inches of olive oil in a 4-5quart pot on medium-high heat until it registers about 360°F on a deep-frying thermometer. Working in batches (do not overcrowd the pot), carefully lower rice balls into oil with a slotted spoon and fry, turning occasionally, until golden brown for about 3-4 minutes per batch. Transfer the fried balls with a slotted spoon to paper towels to drain, and then return oil to 360°F between batches.
Serve on a small pool of warmed tomato sauce with a sprinkle of chopped parsley, if desired.
Flavor Your Life, a campaign supported by the European Union, Unaprol and the Italian Ministry of Agriculture, is dedicated to providing the latest in industry news and health information about European extra virgin olive oil. Extra virgin olive oil enhances the flavors of your recipes while providing health benefits. Flavor Your Life campaign, the voice of olive oil production quality control, aims to educate consumers so they can make informed decisions when purchasing olive oil.
#####