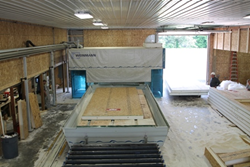 Clyde, NY (PRWEB) August 01, 2014
Fingerlakes Construction (FLC) http://www.fingerlakesconstruction.com in Clyde, New York is celebrating their recent expansion with an open house. The open house is open to the public and will be August 6 from 11 a.m. to 5 p.m. The recent expansion included the addition of a new Structural Insulated Panel (SIP) manufacturing plant. The plant includes equipment for laminating, cutting and prefabbing the panels. The plant was completed in May and is now at full production. At that point, the plant is expected to produce 1.5 million sq. ft. of panels annually. Visitors at the open house will be able to tour the new plant and watch as the structural insulated panels are made.
Structural insulated panels are known for their energy-efficiency and are a proven building product. The panels consist of an insulating foam core sandwiched between oriented strand boards (OSB). The panels are manufactured under factory controlled conditions and can be fabricated to fit nearly any building design resulting in a building that is extremely strong, energy-efficient and cost effective.
Fingerlakes was started in 1969 and is the number one post frame builder in New York State. They manufacture complete building packages for a wide range of construction including personal garages, commercial office complexes, municipal, equestrian, agricultural, dairy facilities, post frame buildings and many other building types. There is also a construction division with company crews to assure quality construction of the building packages. FLC was purchased in April 2013 by Energy Panel Structures (EPS), and since then 21 new jobs have been created.
EPS has a corporate office in Graettinger, Iowa and was established in 1981 as a subsidiary of MacArthur Company. Along with the Fingerlakes location, EPS has an additional manufacturing facility in Perryville, Missouri and employs over 350 at all locations. The company is employee-owned and serves all but the western and southwestern states of the U.S. through a dealer network of more than 400 independent authorized dealers.