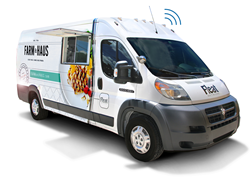 Third-party delivery services are stealing the soul from brick and mortar retailers.
ORLANDO, Fla. (PRWEB) February 21, 2019
Fleat Network a delivery logistics startup announced today its upcoming participation in back-to-back national conferences to debut its intelligent mobile retail platform. Fleat's StreetLogic® software combines delivery management automations with database intelligence that allows food and convenience retailers the ability to leverage machine intelligence to help make informed operating decisions. While service quality and security remains a top concern for retailers considering delivery programs, Fleat allows merchants to maintain control of their brand experience and secure their customer data while serving customers beyond their physical stores.
"Third-party delivery services are stealing the soul from brick and mortar retailers," said Patrick Fore, Fleat's CEO and co-founder in a recent conference panel called Disrupting Convenience at the National Association for Convenience Stores in Las Vegas. "When retailers join their competitors on third-party delivery marketplaces like Uber Eats, Instacart and DoorDash, what may initially seem like a win is proving to be a very costly experience in every sense of the value equation."
Fleat has been operating beta programs using its patented technology with central Florida restaurateurs since last summer, and is now using that data to design and launch national pilot programs. As part of its growth strategy, the company has formed strategic alliances with other visionaries in the automotive technology sector. "As we move beyond regional trials and look to launch broader applications of our technology, we're aligning with other industry pioneers, sharing a vision for eventual self-driving and complete electrification of our mobile storefronts," said Fore.
"In a new dining era where ghost kitchens, pop-ups and on-demand service has introduced new conveniences to consumers, operators must find new ways to stay connected with their guests," said Brittany Lyne, co-owner of Orlando-based Farm and Haus and a Fleat beta program participant.
Fleat will debut its StreetLogic software at the Food On Demand conference in Chicago in April, and will participate on the event's closing panel titled "The Future of the Convenience Economy". Immediately following this conference, Fleat will offer retailers a first glimpse of its intelligent mobile storefronts at Home Delivery World 2019 in Philadelphia. "We're eager to give national retailers a first look at our intuitive network and connected vehicles," said Jimi Beach, Fleat's Director of Development. "We think operators will be surprised how easy it can be to manage their own delivery programs once the right assets and automations are in place."
About Fleat®
Fleat provides a turnkey technology solution that allows fresh-food, grocery and convenience retailers the ability to manage their own off-premise operations, without losing profits or sacrificing quality to third-party couriers. For a fixed monthly cost, retailers using FLEAT can launch a network of intelligent mobile storefronts to better serve on-demand consumers, maintain control of their customer data, and promote awareness in hyperlocal markets using transit advertising and intelligent geo-targeted digital promotions. http://www.fleat.net