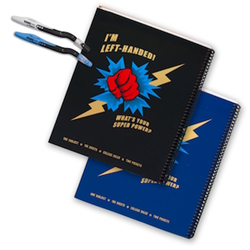 "I'm Left-Handed. What's Your Super Power?" ------Lefty
San Francisco, CA (PRWEB) August 11, 2016
One American company knows how to treat left-handers! Lefty's The Left Hand Store Salutes Fleetcor Inc. for celebrating its lefty employees on International Left-Handers' Day.
When Lefty's received an order for over 100 Left-Handed Super Power Notebook sets, to be sent to 10 different locations across the United States, they were intrigued. They thought it must be a mistake or worse. A call to the purchaser, though, revealed a remarkable story.
With some 2200 employees in the United States alone, Fleetcor is a global corporation and the world's largest management company for fuel cards. They actually care about their employees to a degree rarely seen in corporate America.
Under the aegis of Global Human Resources Vice President Crystal Williams, Fleetcor decided to celebrate its left-handers on International Left-Handers' Day. They sent a communication around to all their U. S. locations asking which employees were lefties, and then invited them to a special luncheon to be held at every location on Friday, August 12 (August 13, the official Left-Handers' Day, is a Saturday this year). At this luncheon, the approximately 200 Fleetcor employees who identified themselves as a left-handers will each receive a Lefty's left-handed spiral Super Power notebooks along with a left-handed pen. The biggest shindig will be at corporate HQ in Norcross, GA.
The Super Power left-handed notebook s are printed with a fist and Super Power emblem, along with the saying: "I'm Left-Handed! What's Your Super Power?". These notebooks have the spiral on the right, much easier for lefties to use. Combined with a left-handed pen, especially designed with a hooked neck and left-handed grip so that lefties can actually see what they are writing, they make it far easier for lefties to both write and keep information organized. Together, these left-handed tools make a substantial difference to left-handers when writing by hand.
Among all the rating agencies that rank large companies from the best to the worst employers, consideration of the needs of left-handers is a factor that is never included in their questionnaires.
It's certain to be a lively and entertaining lunch. Lefties have a very different perspective than right-handers, and must use "work-arounds" for many activities that are natural for right-handers. The fact that scissors are engineered for right-handers, and writing is difficult because the hand follows the writing and smears it, are familiar to some right-handers. The fact that lefties often sit at the end of the table so they won't elbow the right-hander next to them during a meal is also understood by some righties. But do they know that can openers just don't work because they go clockwise, and lefties turn things counter-clockwise? Do they know that measuring cups have the numbers on the back when held in the left hand? Even door knobs turn the wrong way.
A visit to The Left Hand Store's Facebook page, where lefties told their stories as a lead up to Left-Handers' Day, reveals a small corner of the variety of ways in which the world is designed to suit right-handers at the expense of lefties. From miniature golf course and nerf gun design, to power tools, gardening tools, martial arts classes and DIY instructions, the frustrations built into the physical world for lefties are numerous and pervasive.
Visit Lefty's retail stores to see what can be done about this. Lefty's stores are located at Pier 39, San Francisco, in Downtown Disney, Walt Disney World Resorts in Orlando, and in Old Town Mall, Kissimmee, FL. Or visit their very extensive website.