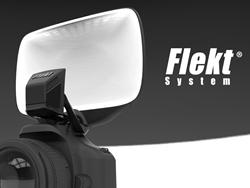 We've spent years perfecting it, and it's great to finally see the excitement that it's garnering among the photography community.
Los Angeles (PRWEB) March 03, 2014
Photographer and project creator Preston Vance launched his unique DSLR camera attachment on Kickstarter on January 24. Just over halfway through the crowdfunding campaign, Flekt has raised over $46,000 from almost 500 backers. Flekt reflects and diffuses the light from a DSLR camera's pop-up flash to create professional quality light using a small attachment that fastens to the camera's hot shoe.
"It's great to see such an awesome response to Flekt," said Vance. "We've spent years perfecting it, and it's great to finally see the excitement that it's garnering among the photography community. We can't wait to see what's ahead for Flekt."
Inspired to create a device that would make professional photography lighting more portable, convenient and affordable, Vance worked on Flekt for seven years before launching his product on Kickstarter. Photos taken with Flekt are a testament to the soft, lovely glow from the diffuse light the device produces.
The Flekt system is composed of three integral parts. Used to attach the rest of the system, the MagAttach locks into a camera's hot shoe using a cam mechanism to hold it securely. The Ignitor Reflector attaches to the front of the MagAttach and redirects the light from the pop-up flash 180 degrees back into the attachment. The first attachment that is available now is called cFlekt, which is magnetically attached to the backside of the MagAttach. By virtue of connecting via a magnetic ball, photographers can pivot cFlekt to the left, right, up and down to shape the light. Still, the secret to the soft, diffuse light that makes Flekt special is in the coatings on the inserts that are placed in the attachment.
Currently available in Lambertian WhiteTM and Exciter TechnologyTM, the inserts reflect diffuse light softly onto subjects. Lambertian WhiteTM has 97% reflection with great diffusion. Exciter TechnologyTM comes in silver and gold and utilizes thousands of glass microspheres engineered for maximum reflectivity. Vance's ultimate vision is to develop more attachments and more inserts in additional colors, giving photographers even more variety and adding to their creative toolbox.
Supporters have 22 more days to back the Flekt project on Kickstarter. In exchange for showing their support and backing the project, backers will receive their own Flekt from the very first production run. Flekt starts at only $75, and there are a limited supply of early bird packages still available. Backers can also donate any amount to the campaign if they are interested in doing so.
To learn more about Flekt or to pre-order today, visit http://bit.ly/FlektKS. Like Flekt on Facebook and Follow them on Twitter @flektsystem to stay up to date with the campaign, and learn about any new announcements, contests and more.
ABOUT FLEKT
Flekt is a new company founded by Preston Vance who was inspired to design Flekt when he came to the realization he wanted to take better photos. Modeled after one of his favorite accessories, the beauty dish, Flekt was born with the intention of creating the same quality of lighting from a camera's pop-up flash. To learn more about Flekt, visit http://www.flektsystem.com.