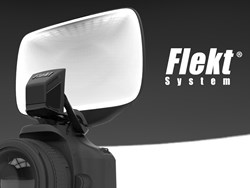 We wanted to make sure that, through the design process, we would exercise both visually pleasing and functional ideas.
Los Angeles, CA (PRWEB) February 06, 2014
Never before has a camera's pop-up flash been utilized to create professional-quality lighting because light from a pop-up flash is very direct and hard. Preston Vance, the creator of Flekt, has taken that same light and made it useable by photographers of all different skill levels. In order for Vance to bring his new design to life, he's looked to the Kickstarter community for help coming up with initial manufacturing funds--and he's currently halfway to his $70,000 funding goal.
As a photographer, Vance wanted to take better photographs and got into studio photography. He found the best quality light he could consistently find came from the beauty dish. He then wondered if the same quality light could be created by utilizing the camera's pop-up flash. Immediately, Vance approached Linespace, an Industrial Design Firm in Culver City, CA to begin working on a prototype for his new idea.
"We started out with several different concepts, but we wanted to make sure that, through the design process, we would exercise both visually pleasing and functional ideas," said Max Beach, Industrial Designer and Partner of Linespace. "We developed Flekt with Canon and Nikon DSLRs in mind but, ultimately, the hot shoe has a certain amount of universality to it, which allows Flekt to be used on a much wider range of cameras."
One of the biggest issues the two teams faced during the design phase was figuring how to create a product that was visually pleasing enough that photographers would feel comfortable displaying it on the top of their cameras for all to see. Together, the teams at Flekt and Linespace researched design concepts for looks that had sleek lines and a modern feel.
"I knew that in order for photographers to want to put a reflector on the top of their cameras, it had to look sexy and sleek," said Vance.
Another issue they faced was eliminating the shadow produced by the front reflector. The Flekt System bounces light and puts it back on the subject, past the first reflector, which produces a shadow that needed to be eliminated.
"We did this using diffusion and concave reflectors. By using a concave design for the back reflector, it puts the light in a focus spot past the front reflector, eliminating the shadow. In order to use specular surfaces, we coated the mirror surface with thousands of microspheres which work to keep the specularity, as well as scatter the light enough to eliminate the front shadow," said Beach.
A key component that Vance wanted was for the photographer to have unrestricted adjustability for the back attachments, as well as a universal hub. Beach and Vance developed one of the best parts of the Flekt System to accommodate this function; a magnetic ball system.
The team tested a variety of sizes and magnets for strength and adjustability. The fluidity of movement will give the photographer many choices on where to put the light. An additional benefit is that if the attachment is bumped, it will release without moving the camera or breaking off because it is magnetic.
To learn more about Flekt, or to order the new camera attachment system, visit http://bit.ly/FlektKS. Also be sure to Like Flekt on Facebook and Follow them on Twitter @flektsystem to stay up to date with the campaign, and learn about any new announcements, contests and more.
ABOUT FLEKT
Flekt is a new company founded by photographer Preston Vance who was inspired to design Flekt when he came to the realization he wanted to take better photos. Modeled after one of his favorite accessories, the beauty dish, Flekt was born with the intention of creating the same quality of lighting from a camera's pop-up flash. To learn more about Flekt, visit http://www.flektsystem.com.