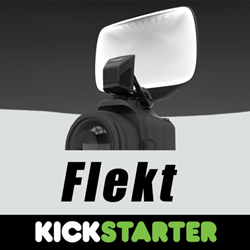 This is achieved because of our "quality of light" motto, we tested various gold surfaces and the best one was actual gold.
LOS ANGELES (PRWEB) March 21, 2014
On January 24th Preston Vance launched a crowdfunding campaign for his new camera flash system, known as Flekt, that will change photography as we know it. The Flekt System attaches to a camera's hot shoe, and bounces light from a pop-up flash 180 degrees back into a attachment reflector and then back to the subject. The cFlekt is the first attachment with many future designs to follow. Flekt is a photo studio for the top of your DSLR that is a fraction of the cost of third party units.
The Flekt System with the cFlekt attachment uses multiple inserts with white, silver and gold. "During the campaign, we finalized our gold reflector and we were blown away by our first shoot. We knew the gold would be great, but we were amazed by how beautiful the light was on the models," said Vance. "This is achieved because of our "quality of light" motto, we tested various gold surfaces and the best one was actual gold."
The possibilities these different reflectors offer are endless. All three reflectors give you substantially different types of light and diffusion. You can take the same shot, same camera, same light source, same model and get wildly different looks. All of which are beautiful! And because the cFlekt attachment is connected via a magnetic ball, you can put the light where you need it.
Vance has discounted a limited number of rewards that are offered in exchange for backing the project on Kickstarter and helping Flekt make it to production. Backers can pre-order Flekt for as little as $65, but those interested should act fast before limited quantities sell out. Once the discounted rewards sell out, Flekt will be available for $75--still significantly less than expensive professional-quality lighting. These rewards will be available until the campaign ends on Tuesday, March 25.
"The end of the campaign is near - I have to say that myself, my team at Flekt and all of the campaign supporters are doing everything we can to help the project reach its funding goal," says Vance. "This process has been a long journey, but I know it will be worth all of the hard work in the end when we get this awesome product into backers hands and onto cameras."
There are only a few days left to support Vance's crowdfunding campaign for Flekt. To be backer and bring this new product to life, visit http://bit.ly/FlektKS. Also follow along with the grand finale of the campaign by liking Flekt on Facebook and following Flekt on Twitter @flektsystem.
About Flekt
Flekt is a new company founded by Preston Vance who was inspired to design Flekt when he came to the realization he wanted to take better photos. Modeled after one of his favorite accessories, the beauty dish, Flekt was born with the intention of creating the same quality of lighting from a camera's pop-up flash. To learn more about Flekt, visit http://www.flektsystem.com.