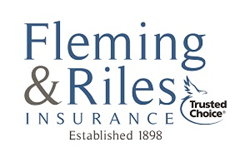 "The topics covered in our blog can help improve the everyday lives of our customers, particularly in areas where it intersects their insurance coverage." - Clint Ivy
ALBANY, GA (PRWEB) July 23, 2015
Fleming & Riles Insurance is networking with customers through the utilization of social media, which makes it easier to offer current news on insurance subjects. Social networking also fosters two-way communication, consumer feedback and public conversations.
People can now connect with Fleming & Riles Insurance on Facebook, Twitter, Google+, LinkedIn and an interactive blog containing insurance news and safety precautions consumers can take in order to improve their lives and lessen the need to file a claim. Social networking websites offer a one-stop shop for news about car insurance, along with an easy, quick way to get a hold of an agent after business hours or while on the move. Paired with a fully-functional mobile website, Fleming & Riles Insurance's new social network accounts allow agents to be in contact with people around the clock.
"Our team is dedicated to posting helpful tidbits about insurance, frequently asked questions and safety tips you can practice to avoid situation that may lead to a claim," said Clint Ivy, President of Fleming & Riles Insurance. "The topics covered in our blog can help improve the everyday lives of our customers, particularly in areas where it intersects their insurance coverage. We encourage personal interaction via the comments area of the blog and social sharing buttons in order to stimulate productive discussions."
View our site at http://www.flemingins.com to network with Fleming & Riles Insurance for more extensive information about car, home and agribusiness insurance. As always, you can call an agent directly at (229) 436-2408.
About Fleming & Riles Insurance
Fleming & Riles Insurance is a well-established independent insurance agency, serving clients in Albany and across southern Georgia. Fleming & Riles Insurance gauges the needs of customers and scours for policies on their behalf in order to deliver great coverage and customer service. For more information, visit our website at http://www.flemingins.com.