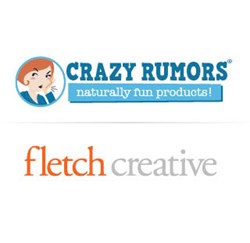 Fletch Creative demonstrates a passion for our product and has the experience to lead strategy for sharing our story.
Atlanta, Georgia (PRWEB) August 08, 2013
Edie and Brian Himmel, a fun loving creative couple that took a leap of faith and decided to do what they love, are celebrating the buzz surrounding their now globally adored company, Crazy Rumors. Their product? The best all natural lip treats dare we say – in the world!! Their Crazy Rumors Facebook page describes it as all natural and vegan, indulgently clean, super moisturizing lip balms and colors in deliciously fantabulous flavors.
"I'm amazed and so very excited. We're treating the lips of friends and retail partners from the US and Canada to the UK, Japan and Australia" says co-founder Edie Himmel. Her husband, Brian, adds, "The growth has been beyond our expectations." Our top five flavors: Red Velvet Cake, Chocolate Strawberry, French Vanilla, Orange Creamsicle and Spiced Chai are continuously being challenged by fun new flavors, some even being suggested by fans. Now, about the name… When asked, "Why Crazy Rumors?" or to reveal a yet to be released new lip balm flavor, Brian smiles and says, "we'll just let the rumors persist for now!" Edie and Brian really love what the do and are eager to share their vision and creative talents with the world. Brian is quite specific about one thing though.
"We are building this company for our three-year old daughter, Sophie by providing a fun, friendly atmosphere where our employees will love to work and express their creativity." Edie is on the same page, "Our marketing and dialogue with fans and customers must stay true to what Crazy Rumors stands for: pure, clean, clever and fun. Growing local to global in less than three years sets a very fast pace for our business." To help develop strategy, Crazy Rumors has named the Atlanta marketing firm Fletch Creative as Agency of Record. "Fletch Creative demonstrates a passion for our product and has the experience to lead strategy for sharing our story," explains Brian. "Plus, Fletch can always make Sophie laugh!" Fletch Creative President, Keith Fletcher adds, "The success of Crazy Rumors is such a great story! This is a brand you grow with a personal touch and with a twinkle in your eye. We're building a serious business while having an awesome time."
About Fletch Creative:
Fletch Creative is a top Atlanta Marketing Firm that works with Kimberly-Clark, The Wear Your Soul Foundation and businesses of all sizes. Fletch Creative builds brands by tapping into human emotion. Fletch believes simple is better and that great creative inspires brand loyalty. For more information visit fletchcreative.com
About Crazy Rumors:
Crazy Rumors Naturally Fun Products distributes flavored Lip Balms and Lip Colors made with certified all natural, vegan ingredients. For more information on Crazy Rumors, visit crazyrumors.com
Facebook: facebook.com/crazyrumorsnaturalproducts
Twitter: twitter.com/CrazyRumors
15% OFF Retail Orders with Discount Code FLETCH (valid until August 31, 2013)