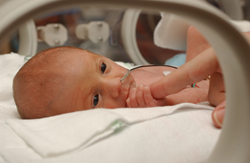 We have a culture of high reliability that is leading to remarkable achievements in patient care at Fletcher Allen.
Burlington, VT (PRWEB) April 22, 2014
Fletcher Allen Health Care recently passed the milestone of going three years with zero bloodstream infections (BSI) associated with central line catheters in its Neonatal Intensive Care Unit, giving it one of the lowest reported rates in the nation. The virtual elimination of central line infections throughout Fletcher Allen's Intensive Care Units is a key reason the hospital ranked in the top ten of elite academic medical centers in a respected 2013 national study, and earned the #1 position in providing safe patient care.
Team Approach
"This outcome is the result of a multidisciplinary team commitment to getting it right every single time," said Charles Mercier, M.D., director of Neonatal Intensive Care at Fletcher Allen and a professor at the University of Vermont. "We have worked effectively together to standardize the process for placement, enhance support during the procedure and strictly monitor how the lines are being used and maintained."
National Leader in Infection Control
Fletcher Allen has also virtually eliminated BSIs in its other Intensive Care Units, and has a 0% rate of infection in primary hip and knee replacements in 3,000 procedures over the last several years. Starting in 2009, it participated in multiple research projects for the Centers for Disease Control and Prevention which yielded new national guidelines that have dramatically dropped BSIs in dialysis patients at Fletcher Allen and across the nation.
"We have a culture of high reliability that is leading to remarkable achievements in patient care at Fletcher Allen, and the area of infection prevention is a prime example," said John R. Brumsted, president and CEO of Fletcher Allen Health Care.
About Fletcher Allen
Fletcher Allen Health Care, together with our partners at the University of Vermont College of Medicine and the College of Nursing and Health Sciences, is Vermont's academic medical center. Fletcher Allen, along with Central Vermont Medical Center, CVPH Medical Center and Elizabethtown Community Hospital, are members of Fletcher Allen Partners, established to develop a more coordinated system of care throughout the region. Fletcher Allen also serves as a regional referral center -- providing advanced care to approximately one million people in Vermont and northern New York -- and as a community hospital for approximately 150,000 residents in Chittenden and Grand Isle counties. For more information about Fletcher Allen, find us online at http://www.fletcherallen.org or on our Facebook, Twitter, YouTube, and blog sites at http://www.fletcherallen.org/socialmedia.